I sell prints, commissioned artwork, and can reproduce any of the images in my gallery using different fabrics. The various options are as follows:
Original Fabric Illustration: A one-of-a-kind illustration hand-crafted completely out of fabric. All artworks in my fabric art gallery are available for purchase, although the picture you purchase will not look exactly like the photo on my site. This is because it's impossible for me to exactly match the fabrics used every time.
Please see my blog post for more information.
Print Reproductions: All artworks in my gallery are available as print reproductions. Available on matte photo paper, glossy photo paper, rolled canvas, or as a giclée or gallery wrap. Print reproductions are printed on-demand and can be 50% - 150% of the original image.
Presentation
All fabric illustrations are presented on muslin and wrapped over acid-free foam core board. Back of artwork is protected by a dust cover.
All fabric illustrations and print reproductions have certification stickers on the back and come with a customized Certificate of Authenticity. Please see the photo below for an example: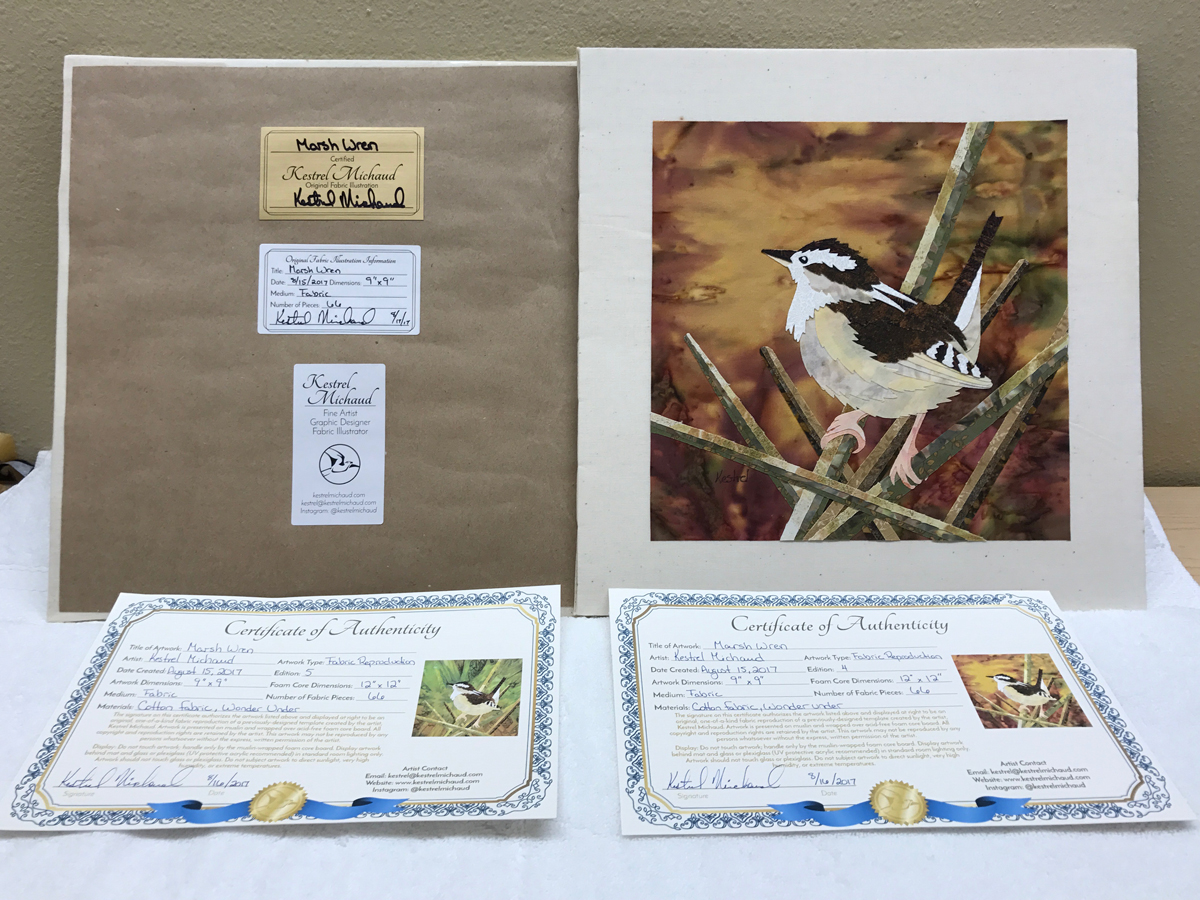 Special Requests
I'm happy to accommodate special requests to the best of my ability. Do you have a set color palette for a room in your house and want a fabric illustration to match? I can do that! Any of my pictures can be modified to match your color palette. Want a custom fabric illustration of your favorite pet? I'd be happy to design a one-of-a-kind picture for you! Interested in a print reproduction on a paper or canvas that isn't listed above? Let me know and I'll see if I can find a source for your request.
Quotes
Every image in my gallery is available as an original fabric illustration or print reproduction. If you're interested in requesting a commission, a fabric illustration, or just want a quote on different print options available, please contact me using the form below.
Payments
I accept credit cards and ACH bank transfers through QuickBook Payments. For original fabric illustrations, 50% of the total cost will be required up front with balance due before shipping finished picture. For print illustrations, 100% of the total cost will be due up front.
Thank you for your interest in my work!