Published:
Length: 1452 words
Reading Time: 8 minutes
I came to the art quilting world from the fine art world. As a result, some ideas and concepts I take for granted are completely new to other quilters. One of those is the act of including a Certificate of Authenticity (CoA) with every artwork or quilt I create.
(For anyone interested, I've included downloads of CoA templates that are free to use at the end of the post.)
What is a Certificate of Authenticity and why is it important?
Here's an example of one of my paper CoAs: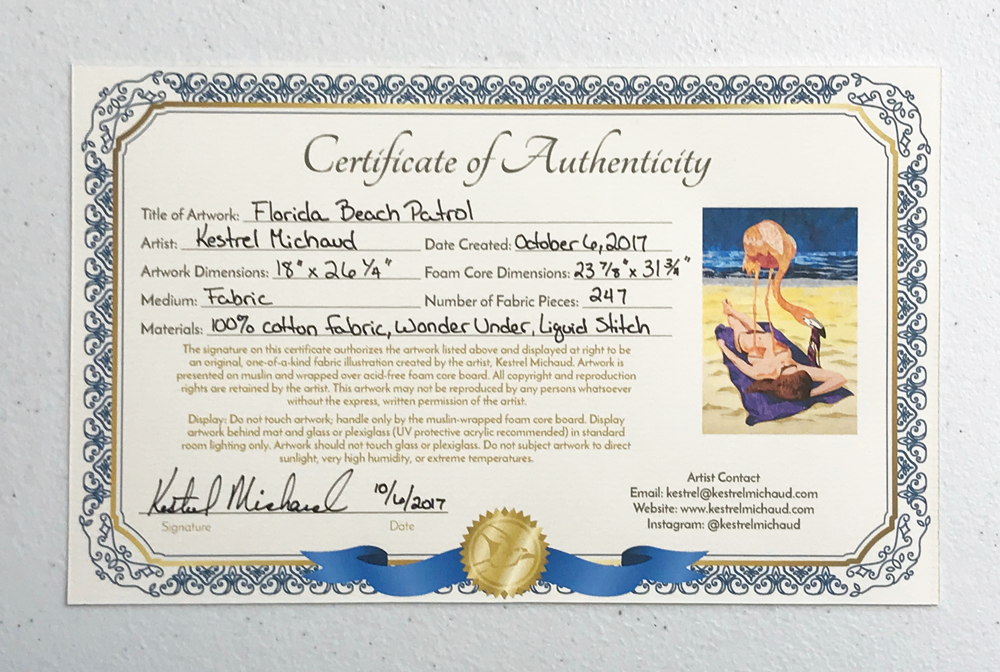 I use both paper CoAs (which accompany each of my framed artworks) and fabric CoAs (which get physically attached to the back of my quilts).
Think of a CoA as a deed for a specific work of art. In short, it is a document created by the artist and included with a work of art that provides proof that the artwork is what it claims to be. A CoA is very important to collectors, as it contains crucial information about the artwork, helping prove the artwork's quality and veracity. Legally speaking, this document can also help protect the artist from fraud and copyright infringement.
Usually, a CoA is provided at time of sale and includes information about the sale. I've been doing my CoAs a bit differently, and talk about that in more detail later.
What should a genuine CoA include?
It's important to include the following information on a CoA for an original work of art to make it genuine (items in bold are required):
Name of artist
Full, exact title of artwork
Date artwork was finished
Medium - For my quilts, this is almost always just "fabric".
Materials - This list should be precise and include everything that makes up the artwork. For me, my materials usually include "cotton fabric, polyester thread, cotton batting, fusible". Both Medium and Materials are important to help collectors properly care for the artwork to ensure longevity.
Dimensions - Some of my CoAs have two dimensions listed. Some of my work is attached to muslin and wrapped around a piece of foam core that is significantly larger than the actual art to allow room for a mat when framed. The CoAs for my framed art always have dimensions of the artwork itself and dimensions of the foam core.
Number of Pieces - This one is specific to my artwork. In the process of creating my art, every piece of fabric gets its own number, so by the time I've finished the picture, I know exactly how many different pieces of fabric were included. I like to include that number on my CoAs.
Image of artwork - I include an image on any CoAs printed on paper, but do not include an image on CoAs for my quilts. The reason is my quilts' CoAs are physically attached to the back.
Name of person or organization that purchased the artwork
Date artwork was purchased
Sale Price
Copyright statement
Reproduction rights - Any special instructions regarding reproduction rights should be included after the copyright statement.
Display/care instructions - I care about my work lasting many years, even if it's not hanging on my own wall. Providing care instructions makes it easy for a collector to know how to care for my art.
Artist's signature and date
Artist's contact information - I want collectors to be able to contact me in the future for any reason.
CoAs for prints or other reproductions should include this additional information:
Date print was created
Date print was signed
Type of print
Edition and number
Printmaker's signature (If the printmaker is different from the original artist.)
Honestly, there are so many different types of prints, and each type has it's own CoA requirements, it can get pretty confusing. I would encourage you to look up a reference for whichever type of print you're considering to make sure you include all relevant information on a CoA.
Important: CoAs have no regulation
It's important to understand:
There is no official body or organization that regulates CoAs.
The required items (in bold) listed up above are essential for galleries, collectors, appraisers, etc. to know when validating a work of art's authenticity.
I intentionally keep all of my CoAs consistent so they can be easily recognized as mine. I also keep high-resolution photographs and a written record of all the art I've ever created. If anyone ever contacted me to question the legitimacy of an artwork, I will be able to verify without a doubt whether the art in question is or isn't mine.
Kestrel's Certificates of Authenticity
The CoAs for my framed art are pretty standard. They include all of the information listed above. My paper CoAs are also printed on 85lb paper to give them rigidity and each gets a personalized envelope: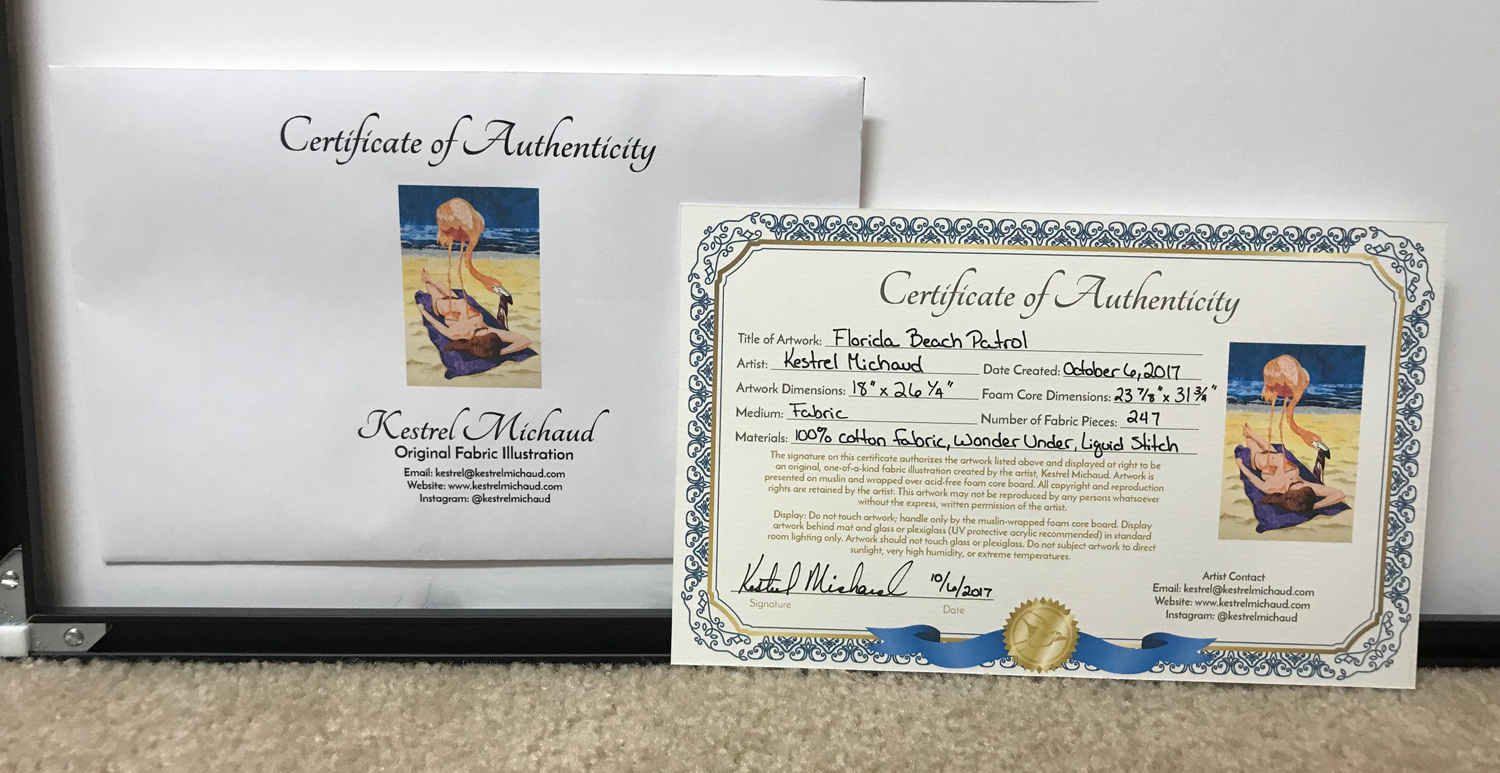 In addition to looking classy and professional, a personalized envelope can be attached to the back of a framed work of art without damaging the enclosed CoA.
The CoAs for my quilts are where my style differs from the standard. My quilt CoAs are printed on fabric and physically attached to the back of the quilt. They contain all relevant information except who purchased it and when. I have created a separate Certificate of Purchase (CoP) that gets attached to the back of a quilt in the event of its purchase. This is an example of a CoA on the back of one of my quilts: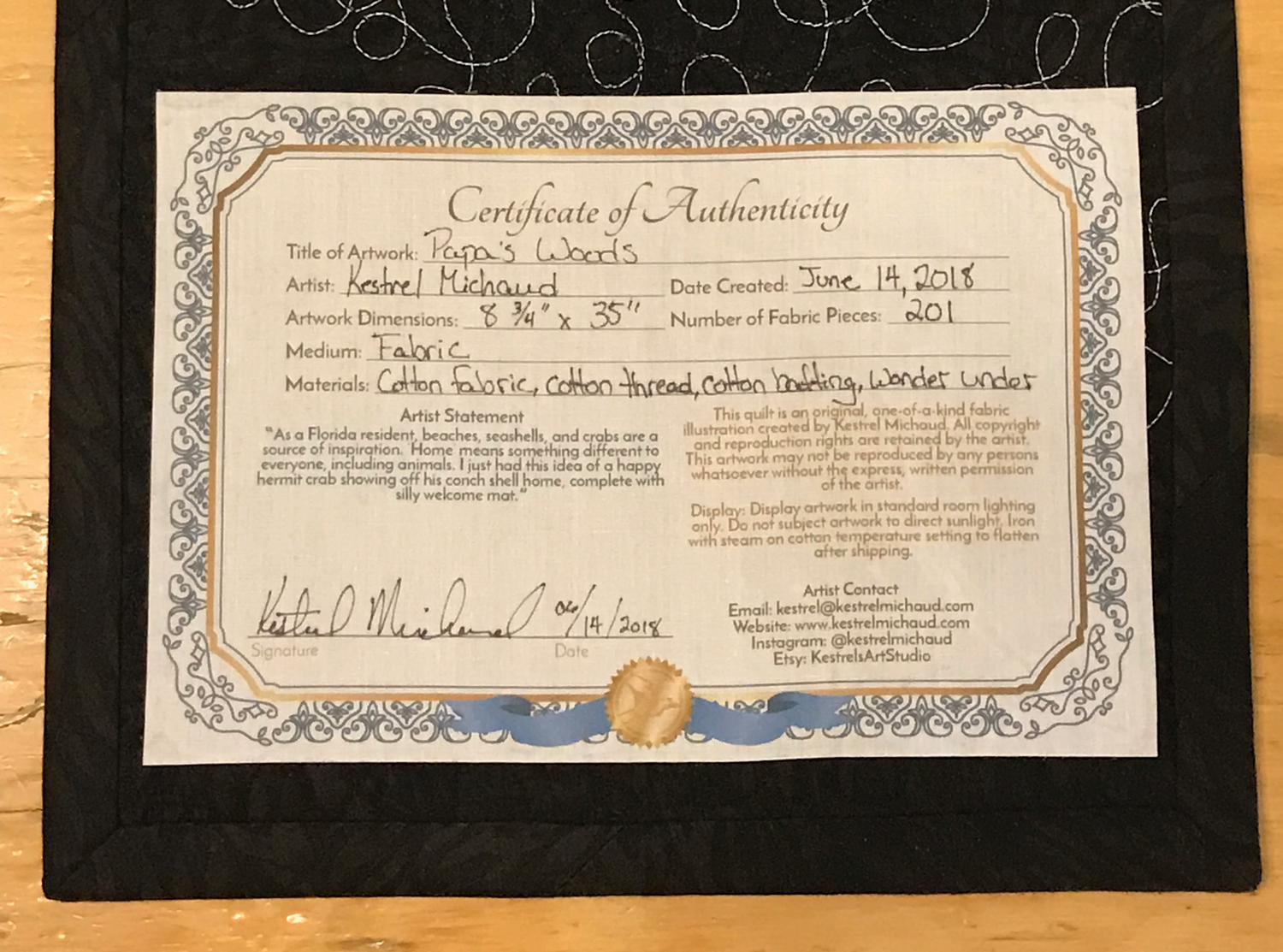 The reason I originally separated a more traditional CoA into two different documents was pretty mundane: I print my CoAs myself on a standard printer. In order to go through my printer, my fabric has to be cut to a standard size. Many of my quilts are pretty small, and a full 8.5x11 sheet of fabric will not fit on the back. I re-designed my CoA to fit two on a sheet, but ran out of room to include all info in the process.
In hindsight, however, I'm very happy I did this. Since my fabric CoAs are physically attached to the backs of my quilts, they travel with my quilts to various shows and exhibitions. I like knowing someone can't just fill in lines left open for purchaser and date to claim my quilt as their own. The Certificate of Purchase is something I personally have to sign and add to one of my quilts after it's bought.
Free downloads
I promised to provide PDFs of some CoA templates I've designed if you'd like to print your own, so here you go!
Paper Certificate of Authenticity
A-10 envelope for paper Certificate of Authenticity
Fabric Certificate of Authenticity
Fabric Certificate of Purchase
All the PDFs above are editable as PDFs or in Adobe Illustrator. You will need to update the following with your own information:
Copyright info
Presentation info (Specifically the sentence that reads "Artwork is presented on muslin and wrapped over acid-free foam core board.")
Contact info
Display and handling instructions
Add a photo of your artwork on the paper CoA and envelope.
These documents are set up to print correctly on my printer without needing to be moved or resized. Additionally, for my printer to print it correctly, the envelope should be fed flap-side up with the opening facing right, like this: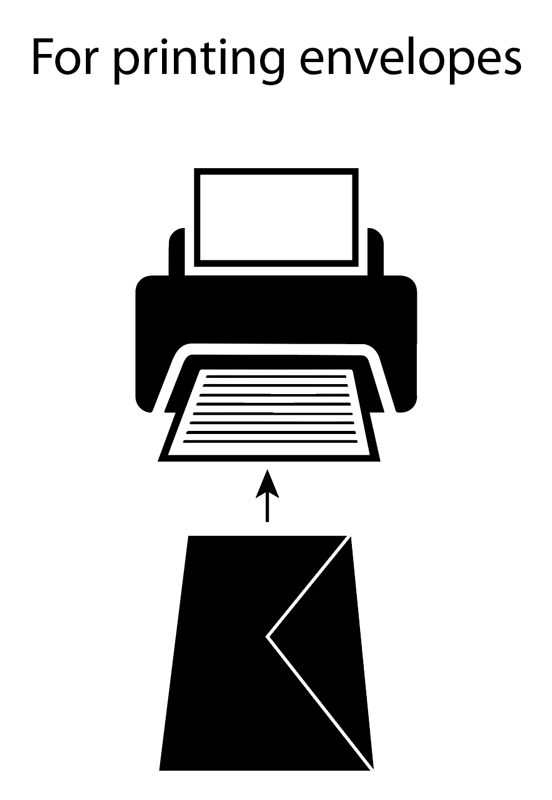 I would encourage you to do a test print using standard paper on your own printer first to make sure my settings will work for you.
Attaching the fabric CoA to your quilt
To print my certificates I use is Threads: Inkjet Printable Fabrics. Drop a line of fray check along the gray cutline around the outer edge of both CoAs and along the cutline that bisects the two. This will keep the fabric from fraying once it's peeled away from the paper. However, you should cut along the cutlines to remove excess fabric and separate the CoAs before peeling them from the paper.
Fill out the CoA info using a fine-point, acid-free Sharpie with lots of juice. Test the marker on paper first to make sure its written lines are solid and opaque.
Use a very lightweight fusible, such as Mistyfuse, to attach the CoA to the back of your quilt. A heavier fusible may start to bleed through.