Published:
Length: 1657 words
Reading Time: 9 minutes
One of my newsletter subscribers asked me how I organize my time and projects. Project organization has always just kind of happened for me; how I do it is not something I've ever had to put into words, so I've been letting that question roll around in my head. Then my husband and I took our dog for an evening walk and planned out my entire 2021 year in 45 minutes, haha.
It turns out my project planning wasn't anywhere near as complicated as I thought. But I wouldn't be able to accurately plan my time at all if I didn't know more or less how long each quilt will take to make.
Time Estimates
I am able to accurately estimate the amount of time a quilt will take to make because I have kept meticulous records of all my fabric pictures and quilts, going back to 2004. I recorded:
The size
How many pieces were in it
How long it took to make
When I started making quilts, I additionally began to track how long each step of the process took.
As a result of recording this information, I have found that the two biggest factors that impact the amount of time spent on a quilt are
How many pieces of appliqué fabric are in the design
How much stiching is involved
Knowing this, in turn, gives me the ability to make fairly accurate estimates as to how long it will take to make any given new quilt.
Individual Project Organization
I do not like to have multiple projects in-progress at one time. When I start sketching the design for a quilt, I go-go-go on that one design until the binding and hanging sleeve are on. As a result, juggling multiple projects has never been a problem for me.
When it comes to managing that one quilt, though, my meticulous records once again come in handy. I have an idea of how long a project should take before I even start it. I also know about how long each step of the process should take. This helps keep me on track.
For example, let's say I'm working on a quilt that should take 1 month to complete. If I plan to sew the quilt exclusively in raw-edge fashion, no decorative stitching, I know the design should be 50% of the entire project time, and I should therefore be completely done with it in 2 weeks. I'll need one week to pick fabric, treat the fabric, cut the fabric, and fuse the pieces together. The last week is for quilting and binding.
Knowing how long past projects took to complete is absolutely crucial in making accurate time estimates for the future, and my time estimates are the only way I know if I'm staying on track.
Kestrel's 2021 Schedule
The biggest factor that determines the order in which I work on projects are the shows in which I want to enter each quilt. Each show has a hard entry deadline, and shows are occurring all year long. I plan my year based on the quilts I want to make, what shows I want to enter them in, and how long it will take me to make each one.
Now through January
My current project is a 36" x 30" gift for a family friend. It's based on a photo of his dog laying among some palmettos in his backyard. I've already started the design and anticipate having it finished in early January.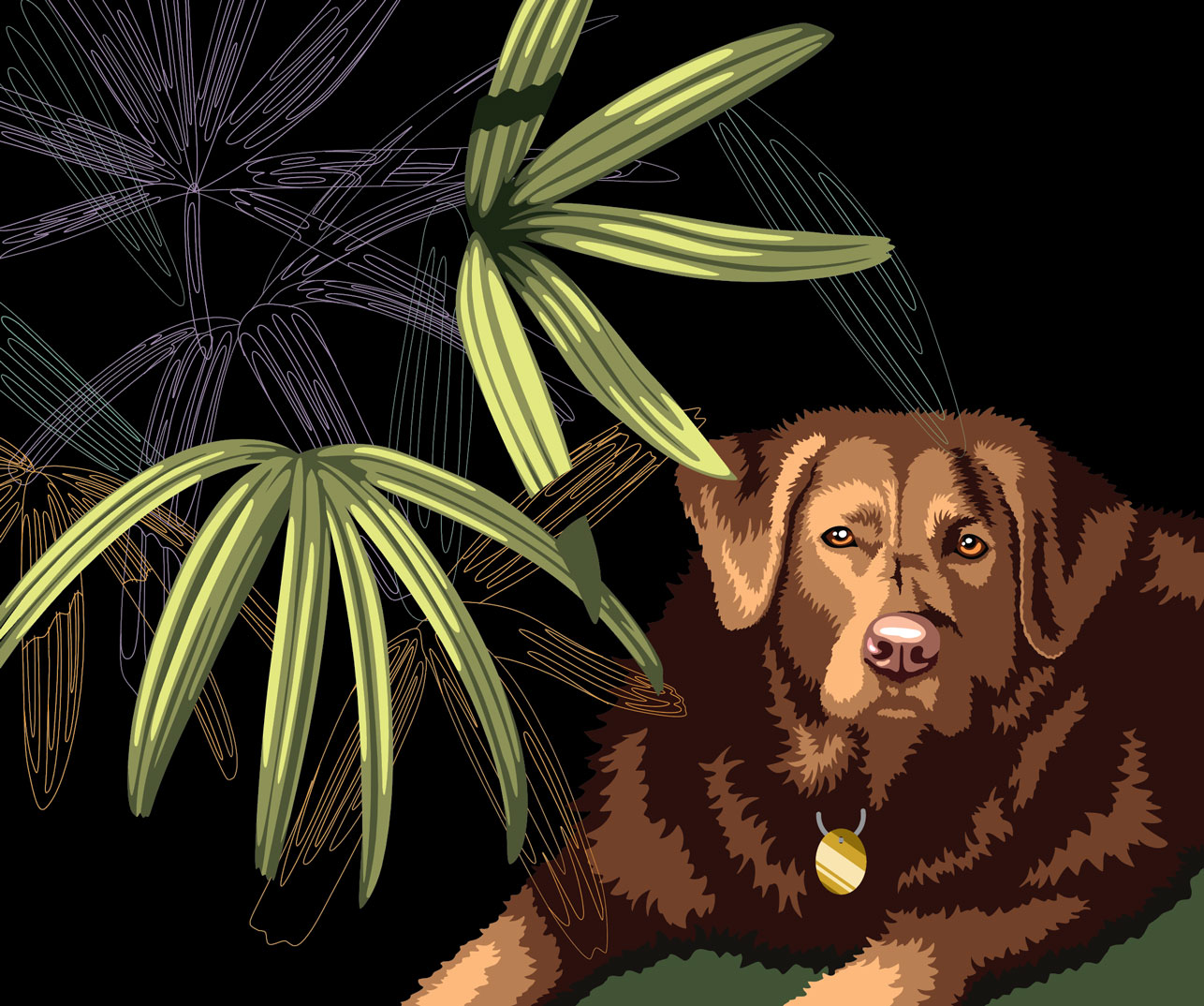 Next up in January is my husband's birthday quilt. His quilts are always video game fanart, and this year will be MineCraft. Alex likes to be involved in the creation of his birthday quilts, so my goal is to have just the design finalized by the end of the month. He and I will work on cutting the fabric, assembling it, and stitching off-and-on through Feb and March as his time allows.
I don't yet have a sketch for this layout, but here is some promotional art I'm using for inspiration: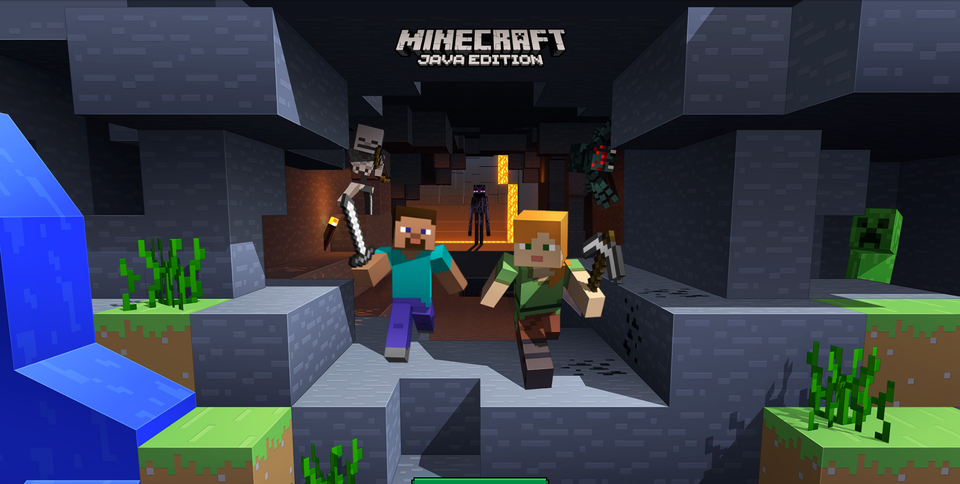 The last project on my agenda for January is to make several 12" x 12" quilts of Obi's face. Obi was my dog who died the day after Thanksgiving in 2020. These quilts will be for people whose hearts connected with Obi while he was alive.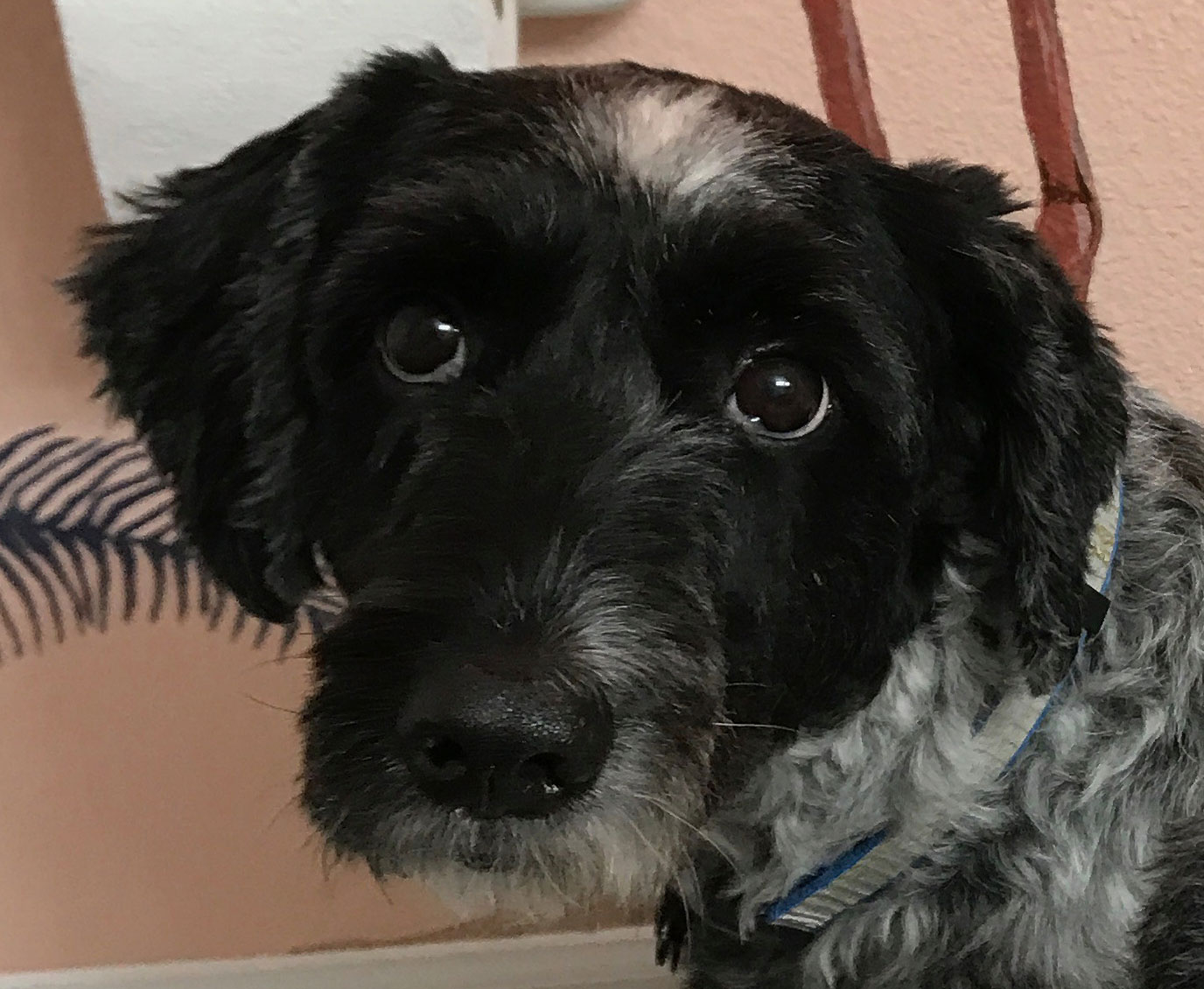 None of these projects are destined for shows, but they should be fairly quick and easy to make and I'll feel much better once they're all off my plate.
February through mid-March
After the Obi quilts I'll be starting a very ambitious design. I want to show a roadrunner (the bird, not the cartoon) chasing a lizard. This will be a very low-angle image with the bird and lizard running right at the viewer. I'll probably tip the horizon for added drama, and maybe try to work in some motion blur. The perspective is going to be really hard, but I'm excited for the challenge.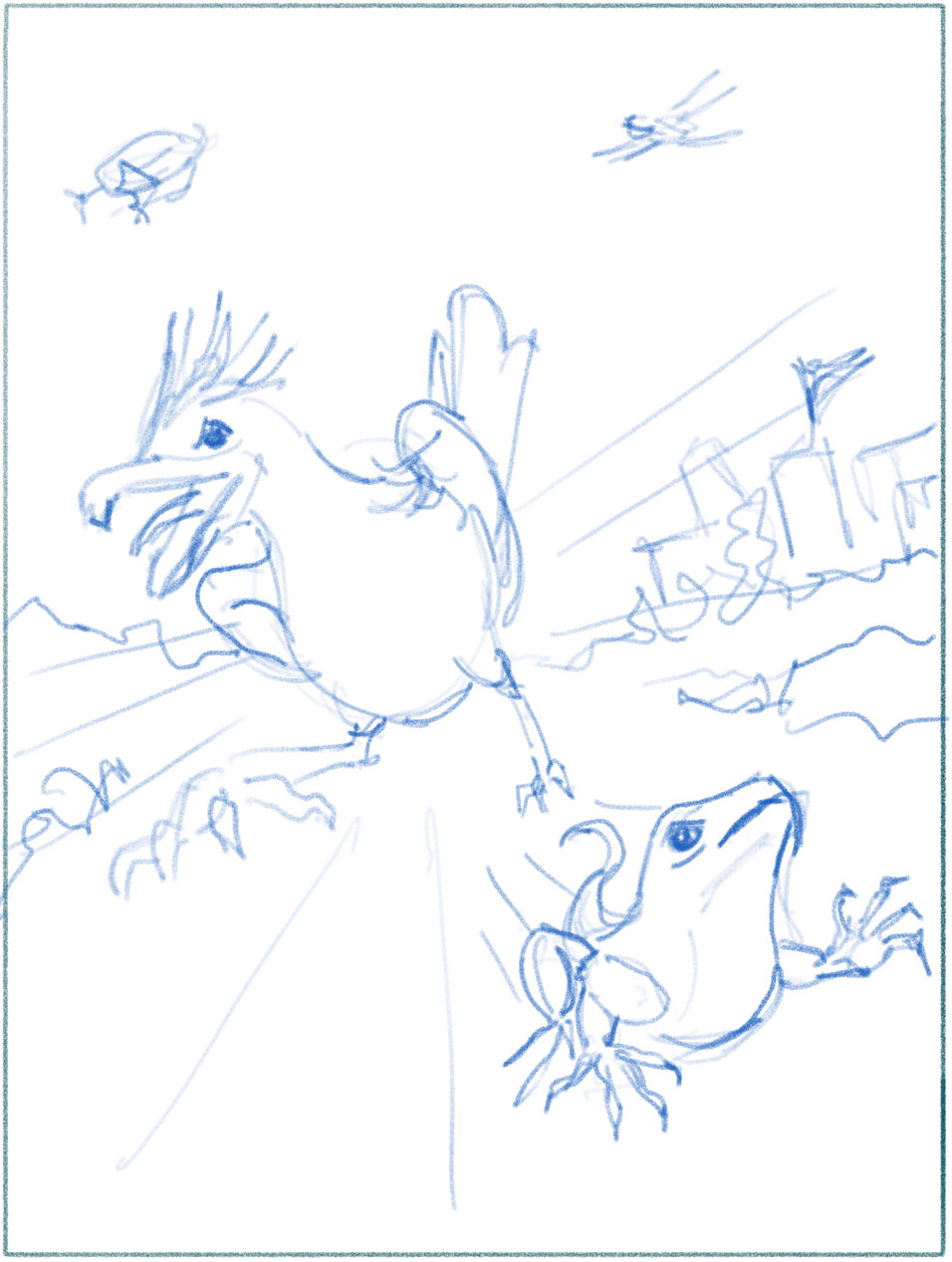 Specs for this quilt are somewhere in the ballpark of 36" x 48", probably 1500-2000 pieces of appliqué fabric, and I expect it will take 6-8 weeks.
I had originally planned to enter this quilt into the Fur, Fangs, Feathers, and Fins SAQA Global contest, due end of May. However, I might decide to send Beauty Queen instead. If that happens, this roadrunner quilt will be destined for the International Quilt Festival in Houston, which also has a deadline at the end of May.
Mid-March through mid-April
Following the roadrunner will by "The Last Call". The viewer's perspective will be from underneath an old timey bar sign, looking up. Think of a sign for an English pub back in Victorian days. It's a weathered, wooden board hanging from a wrought-iron fixture, and the name of the bar – The Last Call – is printed on the front next to a tipped flagon of beer. A raven with a clockwork wing – specifically Jason's pet raven, Jacques – will be standing on the top of the sign, cawing at the sky.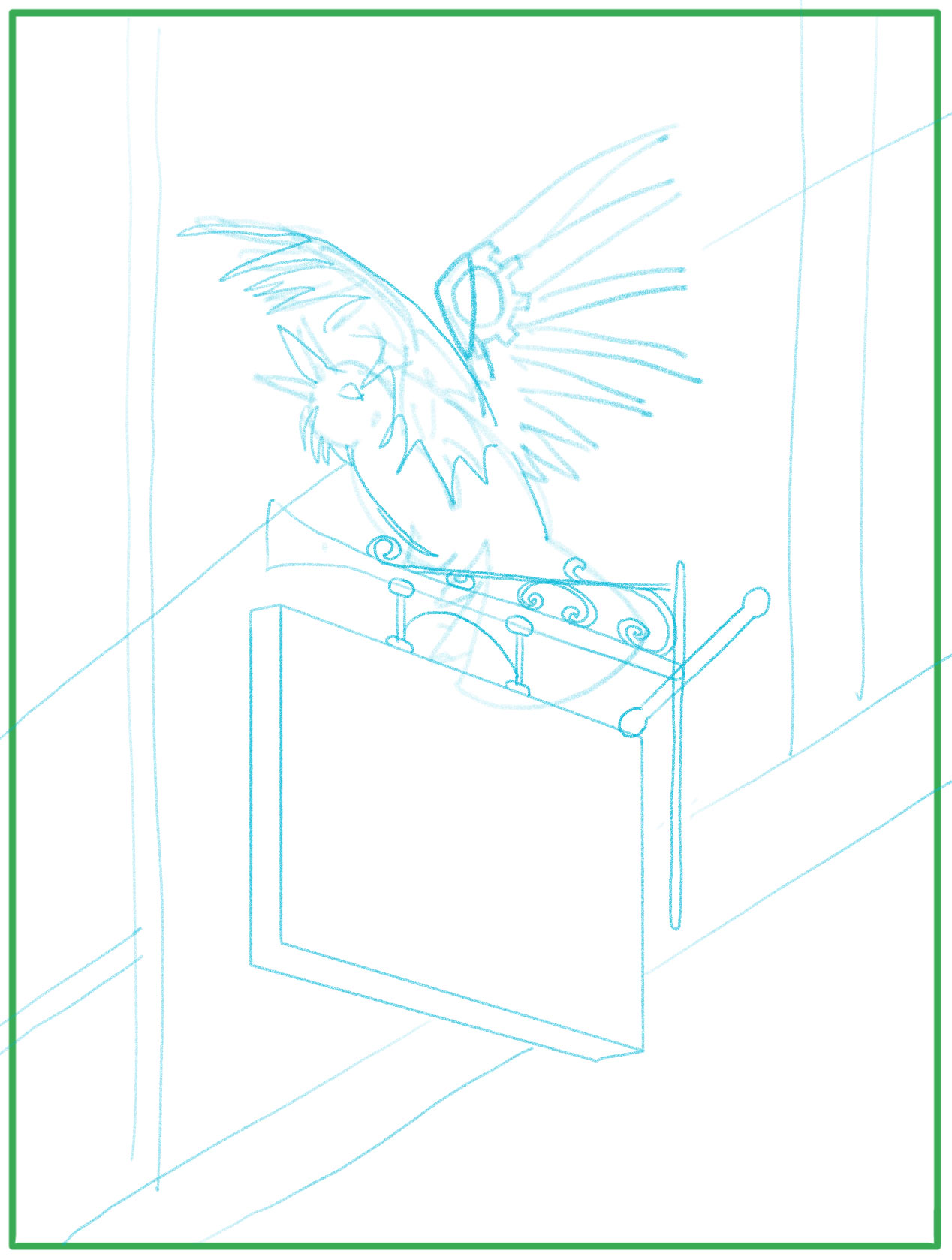 This quilt will be 30" x 40" and probably less than 1,000 pieces of appliqué fabric. I think it will take a month.
The quilt show for this one will be the SAQA Florida exhibition: The Artist's Question...Answered in Fiber. The deadline for this show is at the end of October.
Mid-April through July
The next quilt on the agenda is going to be a challenge: "Origin". This is the elven village living in the antlers of an elk. There are elves in my Steampunk world, and story-wise, this quilt is a depiction of the elves' oral history of where their race originated. The elves were living in the antlers of this elk in a sort-of utopia, but over time some of them fell from the village and landed on the ground. Those elves, "the Fallen", are the ancestors of the elves in my society.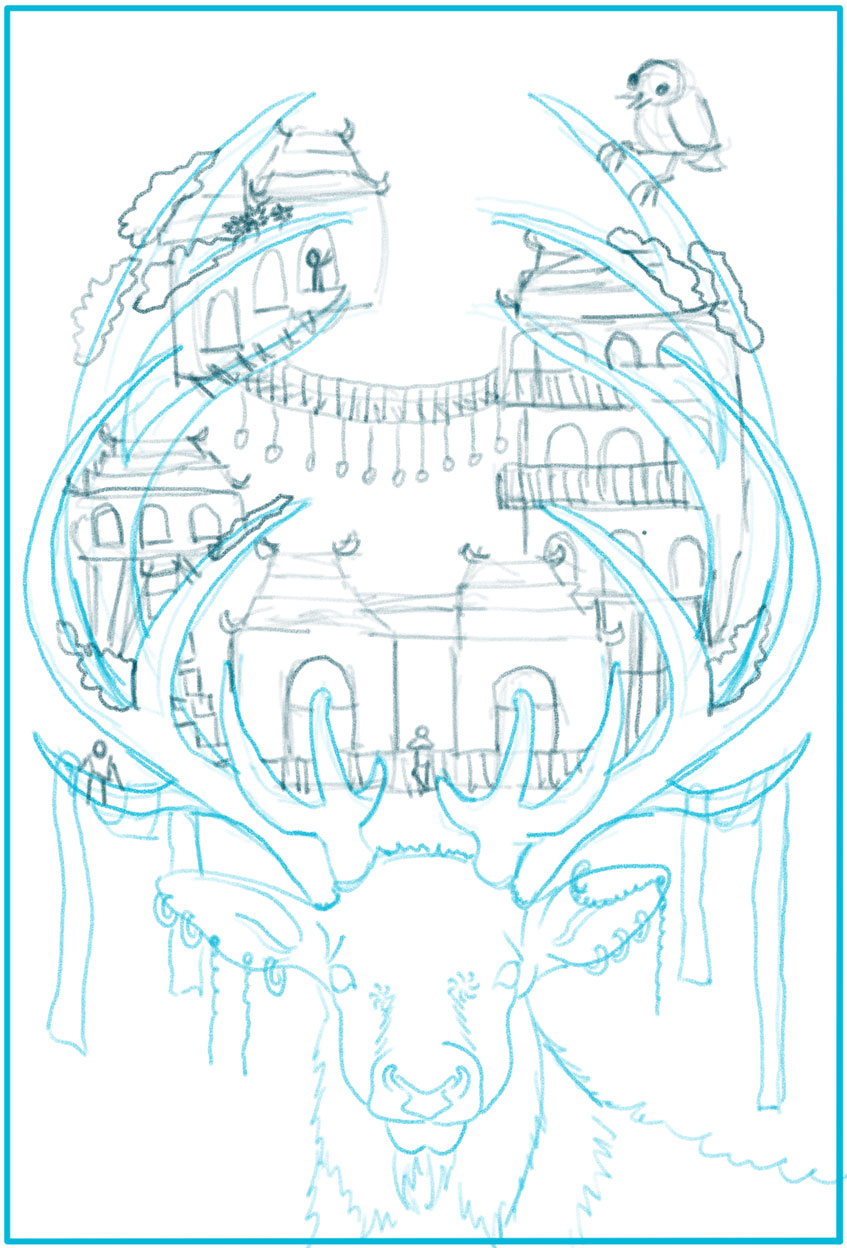 It's going to be big. This quilt will be the largest I've ever made at around 4' x 6' and I'm planning for three months' design and production time. I'd like to enter this big guy into one of the fall Mancuso shows. Which one will depend on the show rules and entry deadlines, so I'll know more once those have been published.
August through mid-September
After Origin will be another quilt in my Steampunk world titled "Someday". Most of the quilt will be a stained glass window depicting a dragon in a celtic-inspired design. A chubby little dragon sporting a mechanical wing is sitting in front of the window looking up, his back to the viewer.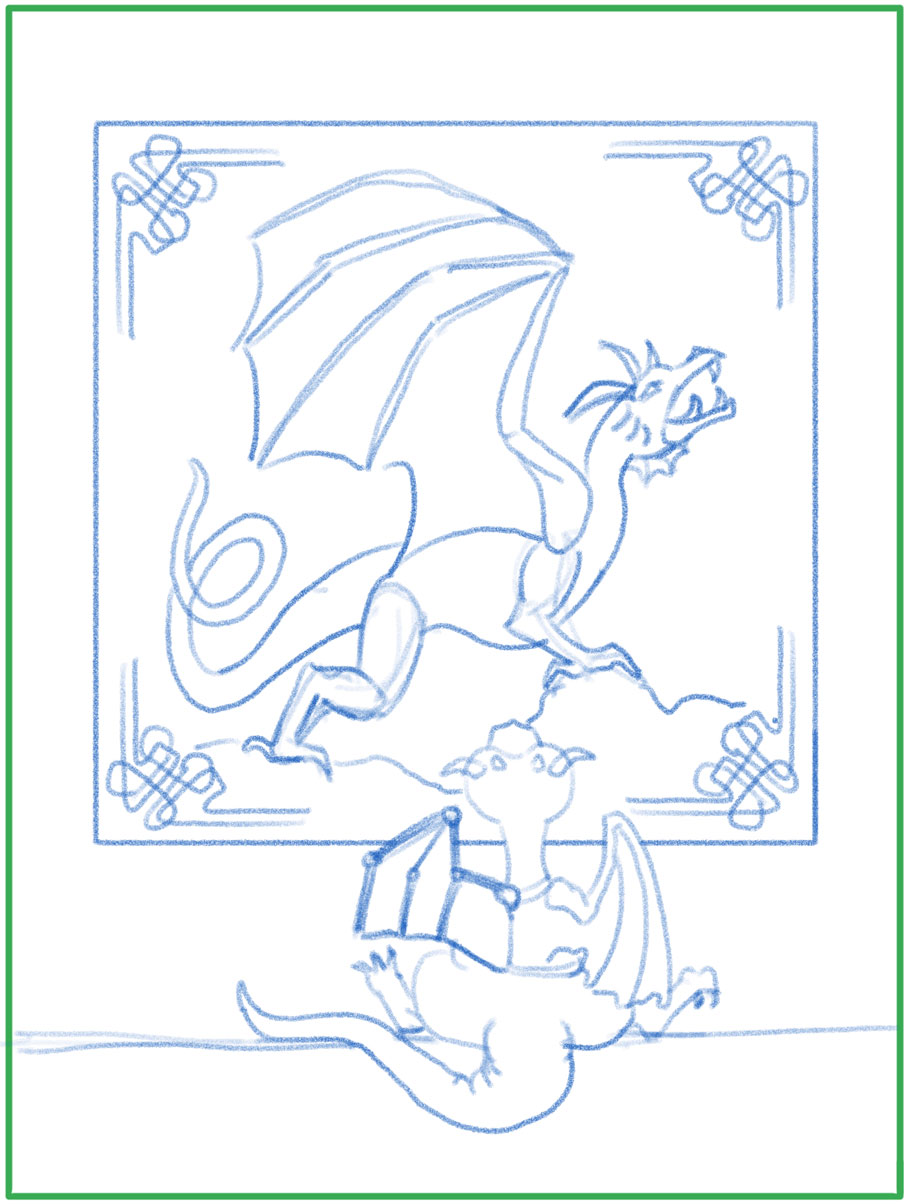 The current plan is for this quilt to be a bit bigger than 36" x 48". My window of time is 6 weeks as of now, so I might have to pick a different quilt idea if I think this one is going to take too long. I also might decide to make this quilt before Origin. It'll depend on how the year goes. I'd like to enter this in the last Mancuso show of the year in November.
Mid-September through December
My last big quilt of the year is actually the one I'm most excited to make. It's called "The Moneylender". Picture a draconian character wearing a smoker's jacket and decorated in gems and jewels. He's staring directly at the viewer with his head slightly tipped and a wide, toothy grin on his face. There's an executive desk separating him from the viewer, and on the desk are piles of gold, jewelry, and a lit cigar. Near the viewer is an unfurled scroll, text illegible, with a bright red signature. Next to the contract is a knife, dripping blood on the table. Behind the draconian guy is a low, stone wall with a sign that has some message about collateral. Even further back the scene is dark, but chains hanging from the ceiling are just barely visible.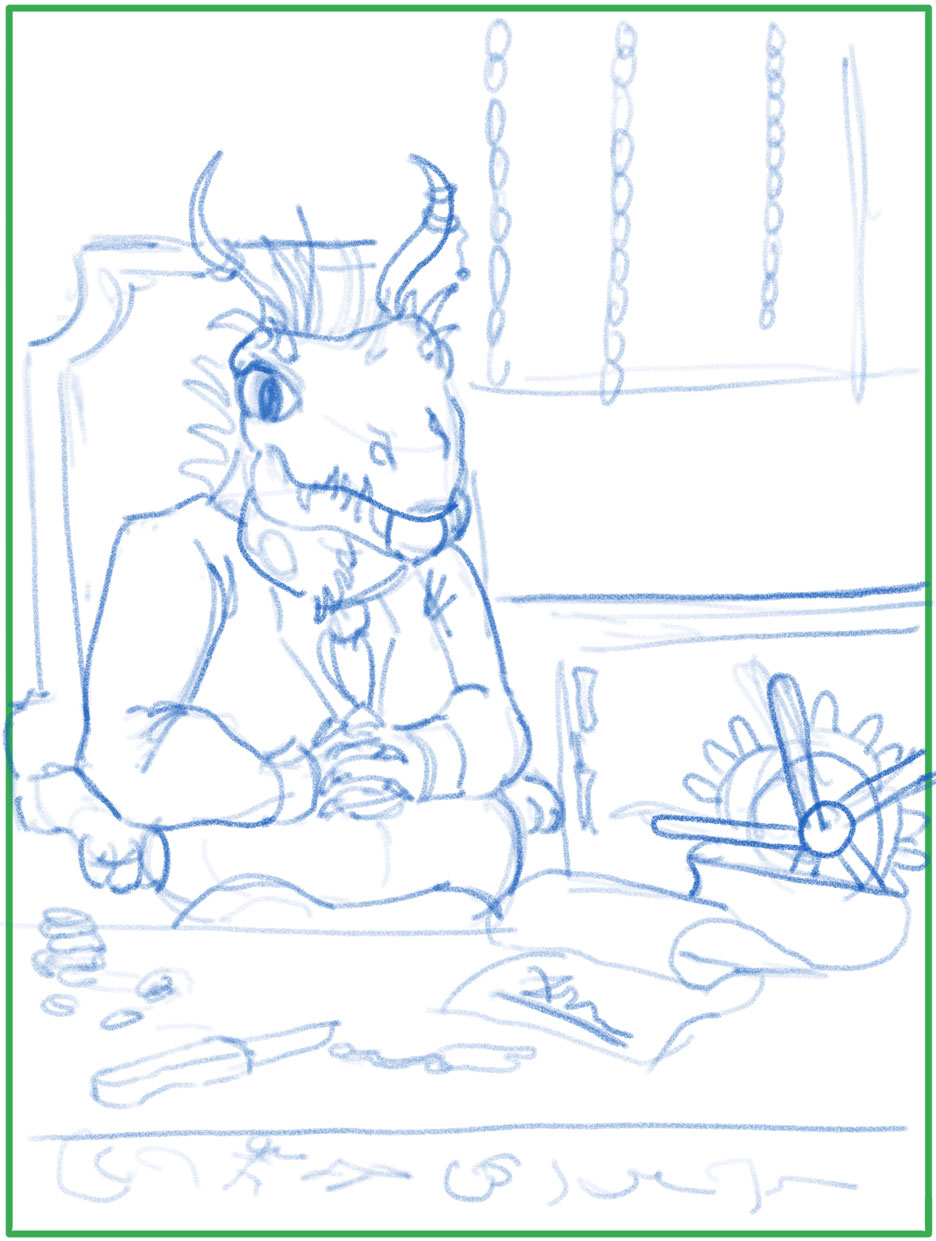 This is going to be another big one, maybe even as large as Origin. I really want The Moneylender to feel overwhelming. As for exhibitions, we'll see what's available in January 2022.
And there you have it! My entire 2021 portioned according to what quilts I need to make when.