Published:
Length: 730 words
Reading Time: 4 minutes
Continuing the itemization of all of my stuff in my sewing studio, today's blog post is all about storage — namely what products I use to keep myself organized. And as you're about to see, I do all of my organizational shopping at pretty much one place: The Container Store.
The blog posts in this series will include:
Storage and Organizers This post
Fabric Stash
I keep my fabric stash in a series of portable drawer units, shown below.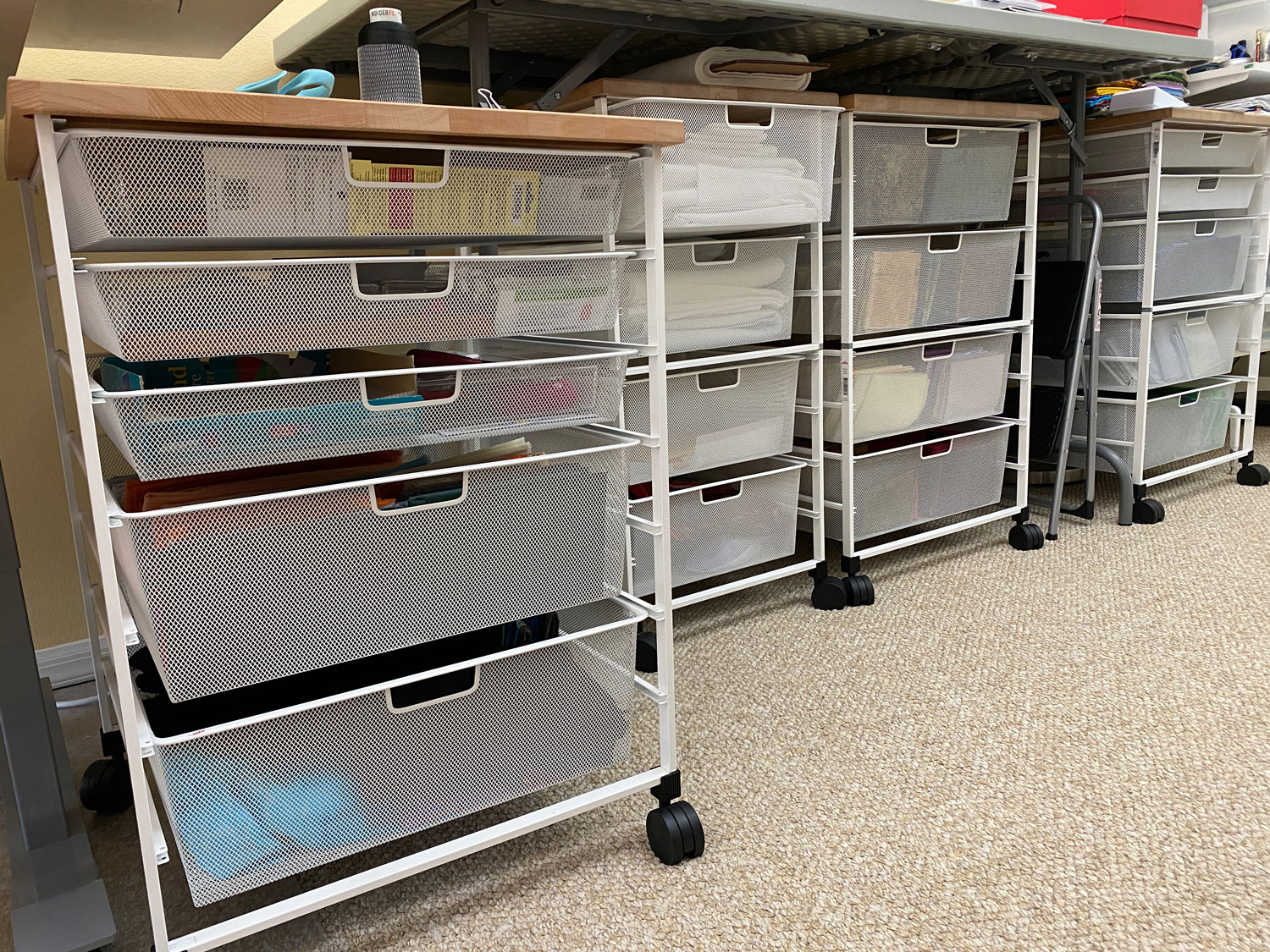 These drawer units are all custom-designed ELFA drawers. I chose the widest option, which means each drawer has about 21" x 21" of space for fabric. The one-rung drawers (shown in the unit closest to the camera) hold my sewing supplies. All of the two-rung drawers have my fabrics.
The Container Store has an ELFA drawer designer on their website. I used this designer to configure all of these drawer units.
I use the mesh drawers because they're metal. I tried the plastic drawers but found the weight of my fabric was making them bow and not stay on the rails. Also, if you fold your fabrics in thirds or sixths of a yard, you can fit two neat rows in each drawer.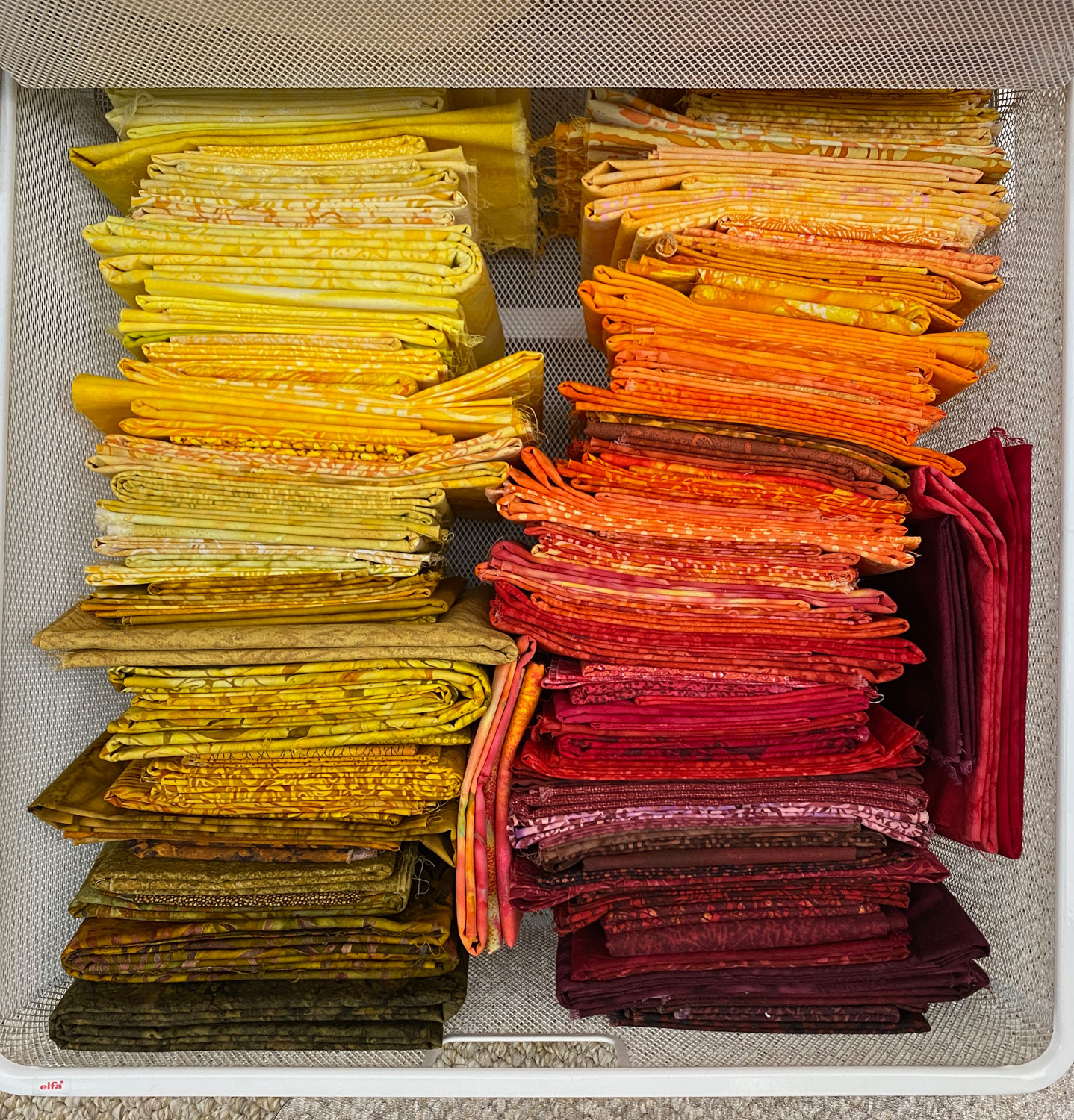 Drawer Organization
In the one-rung drawers above, I use small acrylic containers to organize my sewing supplies. Here is a photo of one of my drawers.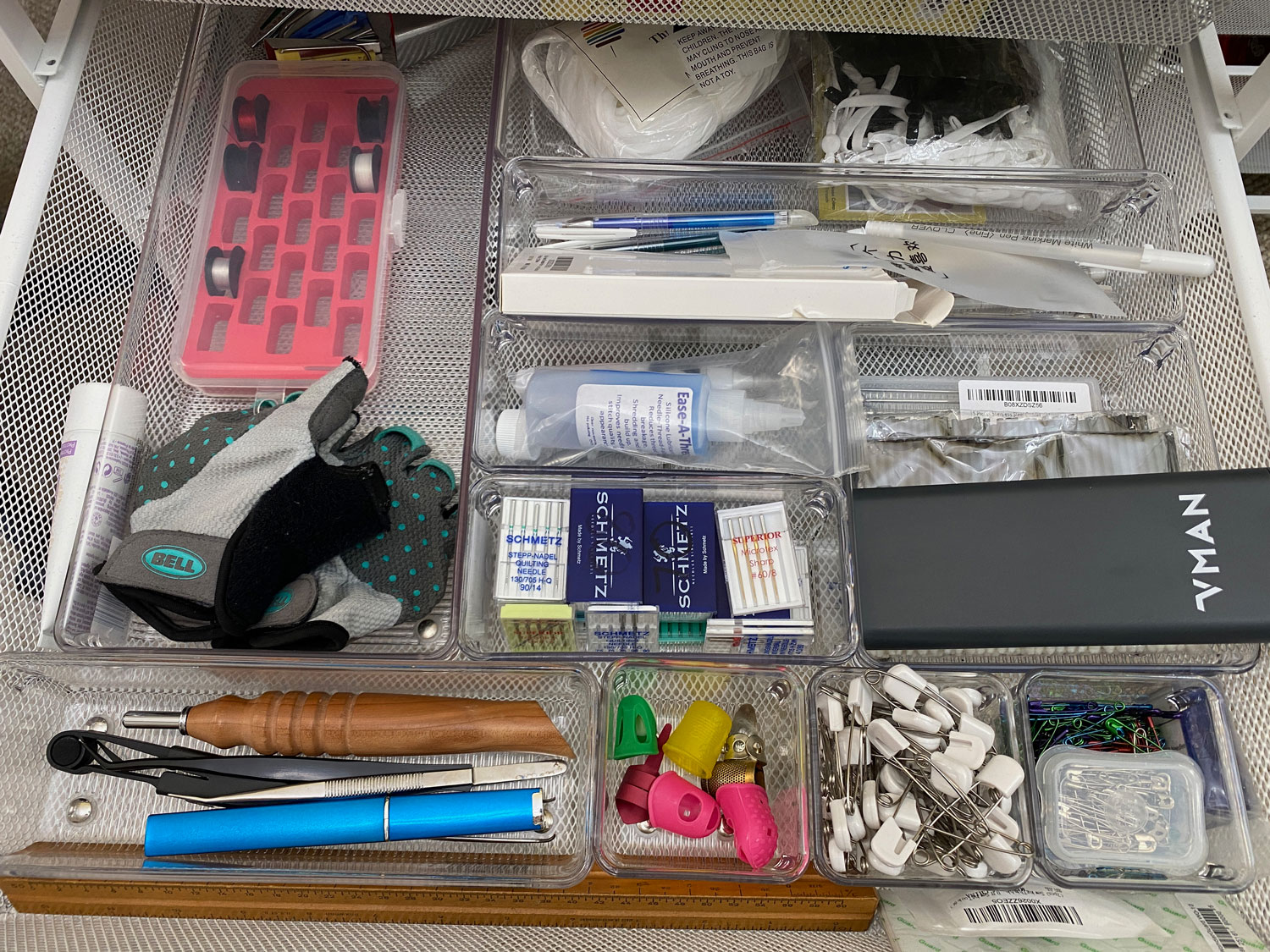 Those acrylic containers are iDesign Linus Shallow Drawer Organizers, also from The Container Store.
I had a question specifically about my bobbin holder, which is a case by DreamStitch. It's specifically for oversized bobbins, such as those used by my Bernina 790 and Q20 machines.
Storage Shelves
Last but not least, my set of free-standing shelves with the rest of my stuff. The numbers are itemized below the photo.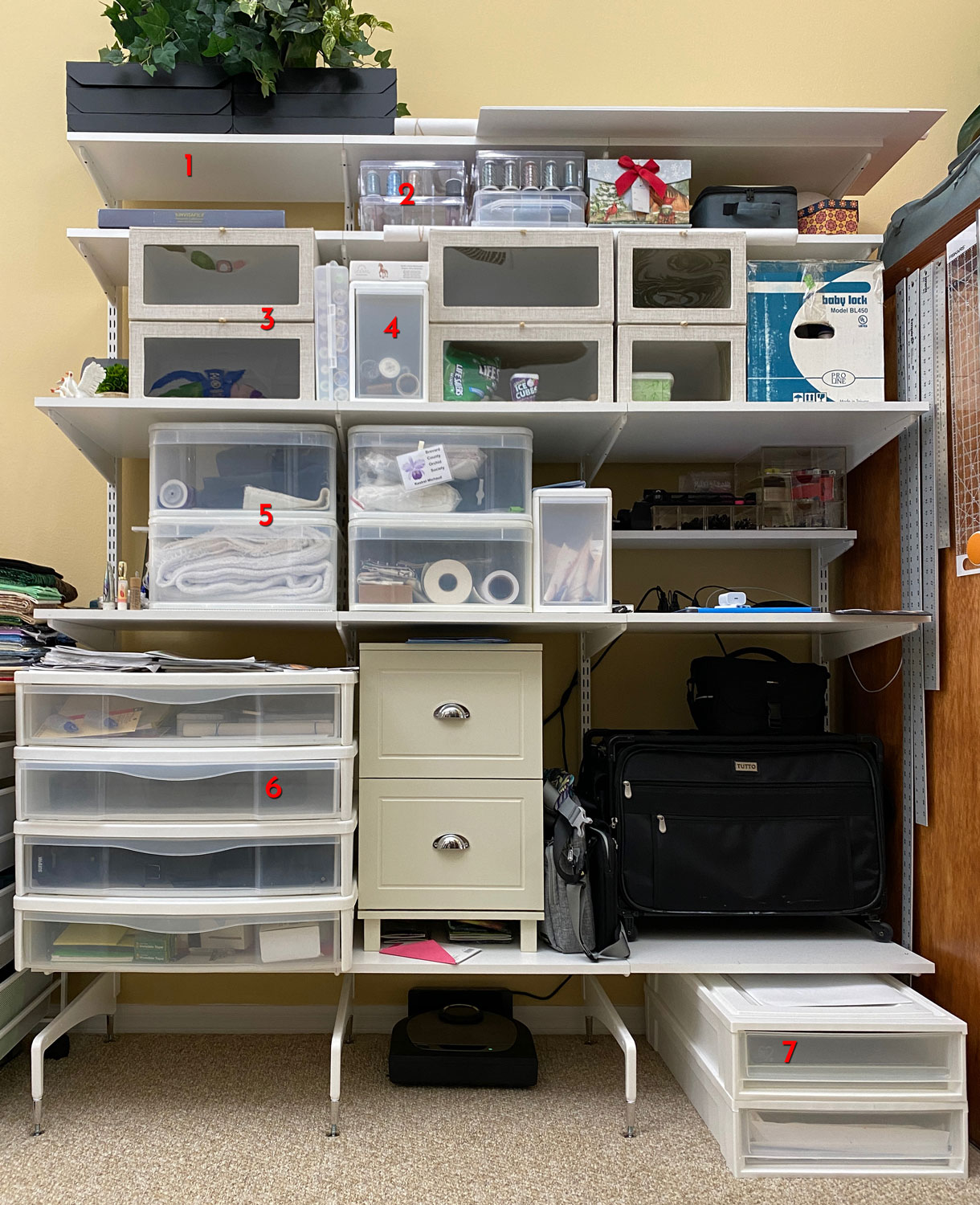 ELFA free-standing shelves: Link Because ELFA shelving is modular and customizable, this set of shelves was designed to my personal specifications. The link shows an example ELFA shelving system on The Container Store's website, but I recommend talking to one of their customer service agents if you're interested in getting shelving like this for yourself.

Hemline Tall Embroidery Thread Box: Link I have several of these boxes for all of my threads.

Linen Cambridge Drop-Front Boxes: Shirt Box Shoe Box These boxes are great because they're sturdy and the front opens down (the hinge is along the bottom edge), giving easy access to a container that's at my eyelevel.

Like-it Modular Drawers: Link I have two of the "Tall Narrow" drawers, but there are more sizes available in the set.

Large Tint Stackable Storage Drawers: Link Just some extra, stacking drawers.

Under Bed Drawer: Link I stacked four of these drawers on top of each other. They do overhang the front of the ELFA shelf by a couple of inches, but that wasn't a problem for me.

Long Underbed Box: Unfortunately, I don't have a link for you for these drawers because they're no longer available through The Container Store. The dimensions are: 35-5/8" (l) x 18-1/4" (w) x 6-1/4" (h) These drawers are the perfect size to store my Cricut cutting mats and oversize printer paper.