Published:
Length: 955 words
Reading Time: 5 minutes
I've been asked about the lights and suspension system I use in my studio, so I felt it's worth continuing the series of blog posts that itemize all the stuff I use in my workroom.
The other blog posts in this series are:
Lights and Suspension System This post
Lights
My studio is is located in the front room of my home. It's the first thing anyone sees when walking through the front door. When this photo was taken, the photographer's back was against the front door.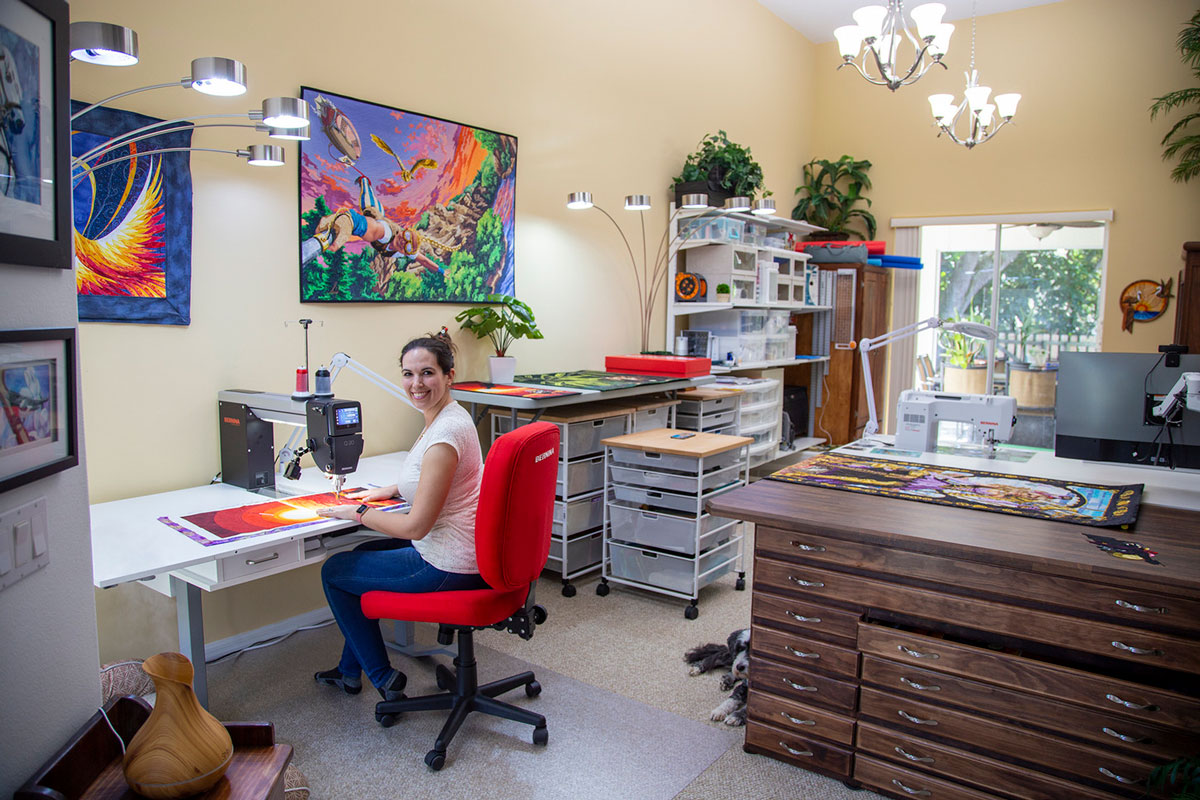 The publicness of my studio was a consideration when deciding what kind of lights to use. These were my requirements:
All fixtures needed to use 5000k (daylight) lighting
I need to be able to walk and work under the lights
All fixtures need to look good (no track lighting)
I ultimately decided on two floor lamps and three hanging chandeliers (only two are visible in the above photo), which in total use 25 light bulbs. Here are the specifics:
Chandeliers Link These chandeliers are minimalist, elegant, and hold five 100-watt bulbs. They're perfect for what I need.
100-watt Equivalent LED Dimmable Bulbs, 5000k Link These are the bulbs I use in my chandeliers.
5 Arc Floor Lamp Link I use two of these floor lamps on the left side of my studio. They're tall, so I can easily walk under them, and the arms have a wide reach, so the light gets spread over a large area. The only downside to these lamps is they require candelabra (base E12) bulbs, which are smaller than standard bulbs. These floor lamps did not provide enough light to illuminate my studio on their own, but they're excellent additions to the chandeliers.
16w E12 LED Corn Bulbs Link I searched for the absolute brightest possible candelabra bulbs I could find, and these corn bulbs were the answer. They throw a ton of light for their size, which is exactly what I want. However, they're not dimmable, and the lamp's switch is. As a compromise, I plugged my lamps into an outlet that has a wall switch, so I never use the dimmer switch on the lamps themselves. (Note: Using a dimmer switch with bulbs that do not support dimming will drastically reduce the lifespan of the bulbs.)
Suspension System
Once again, I had some requirements that had to be met by any suspension system added to my table.
My table has collapsible flaps on the left and right sides. Sometimes I drop those flaps. Consequently, I did not want a suspension system that mounted to those flaps, or I'd have to take it down ever time I lowered the extensions.
I wanted a suspension system that mounted to the back of the table. This would allow the quilt to move unobstructed on the left and right sides. (If the grooming arms were mounted on the left and right sides, some of my larger quilts could hit them while I was quilting.)
I did not want fixed cables and clamps. Rather, I wanted a system that would allow the cables and clamps supporting the quilt to move freely along a bar.
No ceiling mounted systems because the ceiling in my studio is 18' and I didn't want an enormous, unsightly system occupying a corner of the room.
These considerations required me to adapt my own, unique system from some of those commercially available. This is the suspension system I added to my Q20 table that meets the requirements above.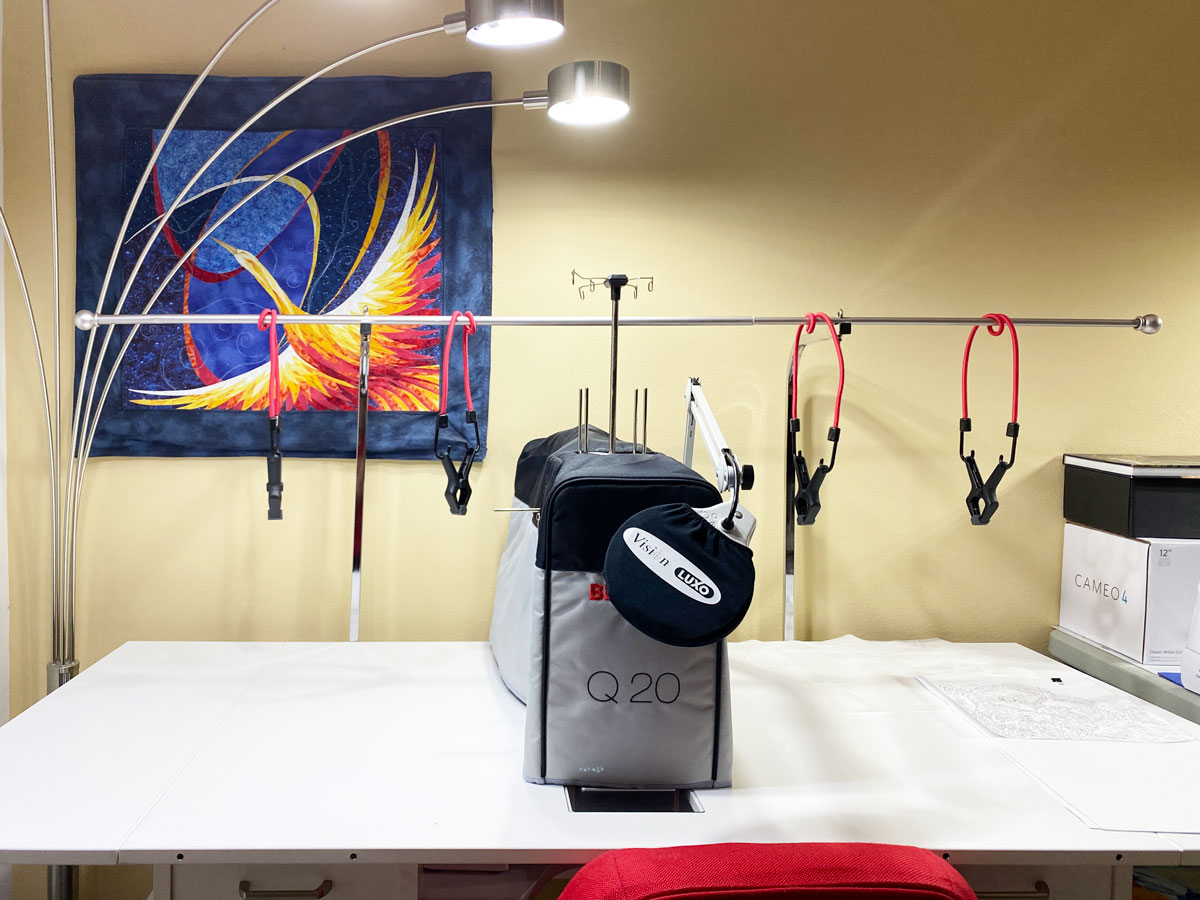 And here is a close-up showing how the grooming arms clamp to the back of the table.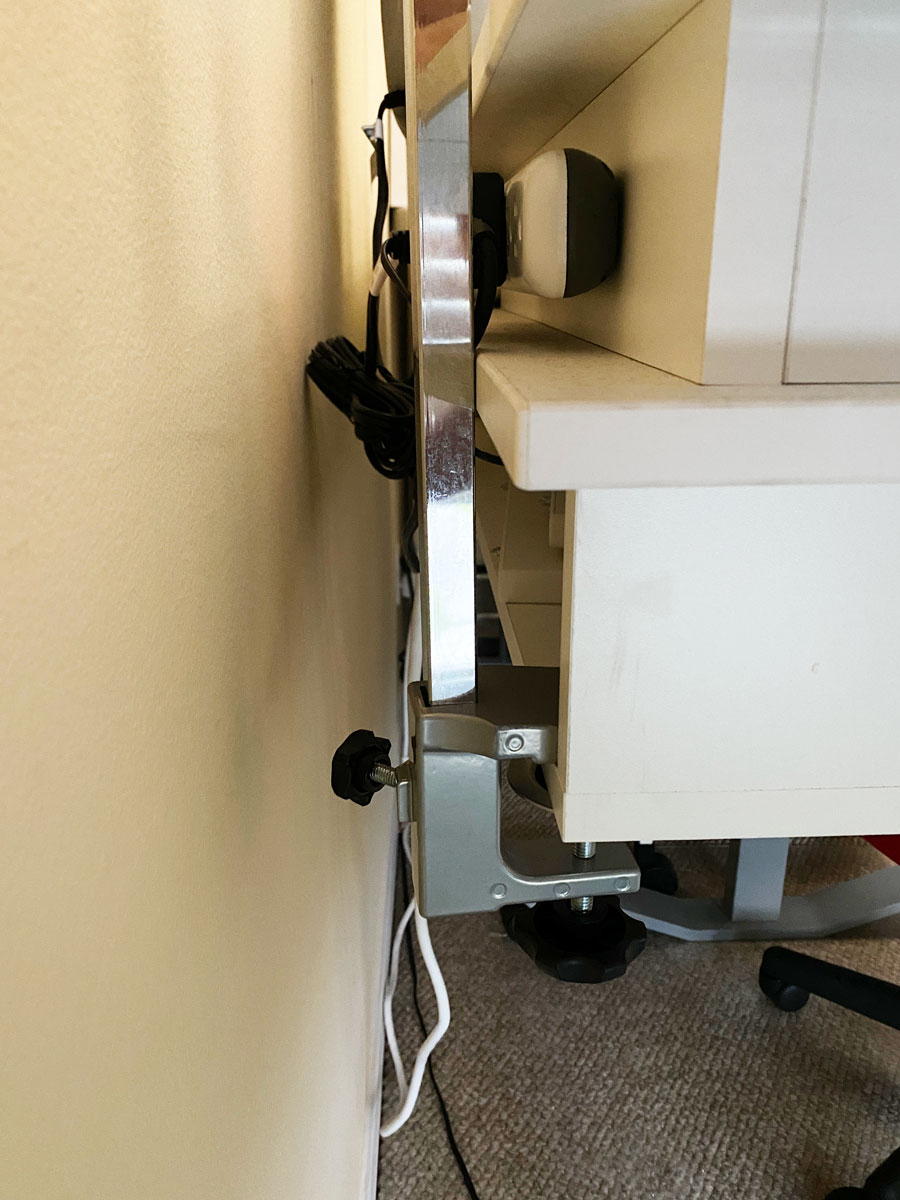 Dog Grooming Arms 36-inch 49-inch I have the 36" model, but the 49" model would be helpful for larger quilts.
Curtain Rod Link This is a simple, metal curtain rod. I drilled two holes through it and attached it to the grooming arms by using the hook hardware that came with the arms.
Bungee Cords Link I purchased this variety pack of bungee cords because I wasn't sure which length would be best. I'm now using the shortest cords (red, 24") wrapped once around the curtain rod.
Clamps Link I purchased this variety pack because I wasn't sure which size would be best. I'm now using the largest clamps. (Note: Although these clamps do have holes in the handles, the holes are not large enough for the bungee cords. I drilled the holes in the handles to enlarge them enough for the bungee hooks to fit through.)