Published:
Length: 900 words
Reading Time: 5 minutes
My friend, Brandy Maslowski (aka the Quilter on Fire ), is a new ambassador for Madeira. Madeira has been a big producer of threads for commercial and embroidery use for a long time, but they're looking to expand into the quilting market. Consequently, they're looking for quilters to test and review some of their products. Long story short, Brandy recommended me to Duncan Yarnall, the Head of Madeira's Consumer Division, and he sent sample packs of three lines of thread for me to try.
What I Received
The three thread sample packs I received were Frosted Matt, Sensa Green, and AeroStitch No. 60. I had requested these threads based on their dtex scores (these three threads had the lowest scores on Madeira's website , meaning they are the thinnest threads Madeira offers). I was interested in exploring alternatives to the silk thread I use for most of my quilting.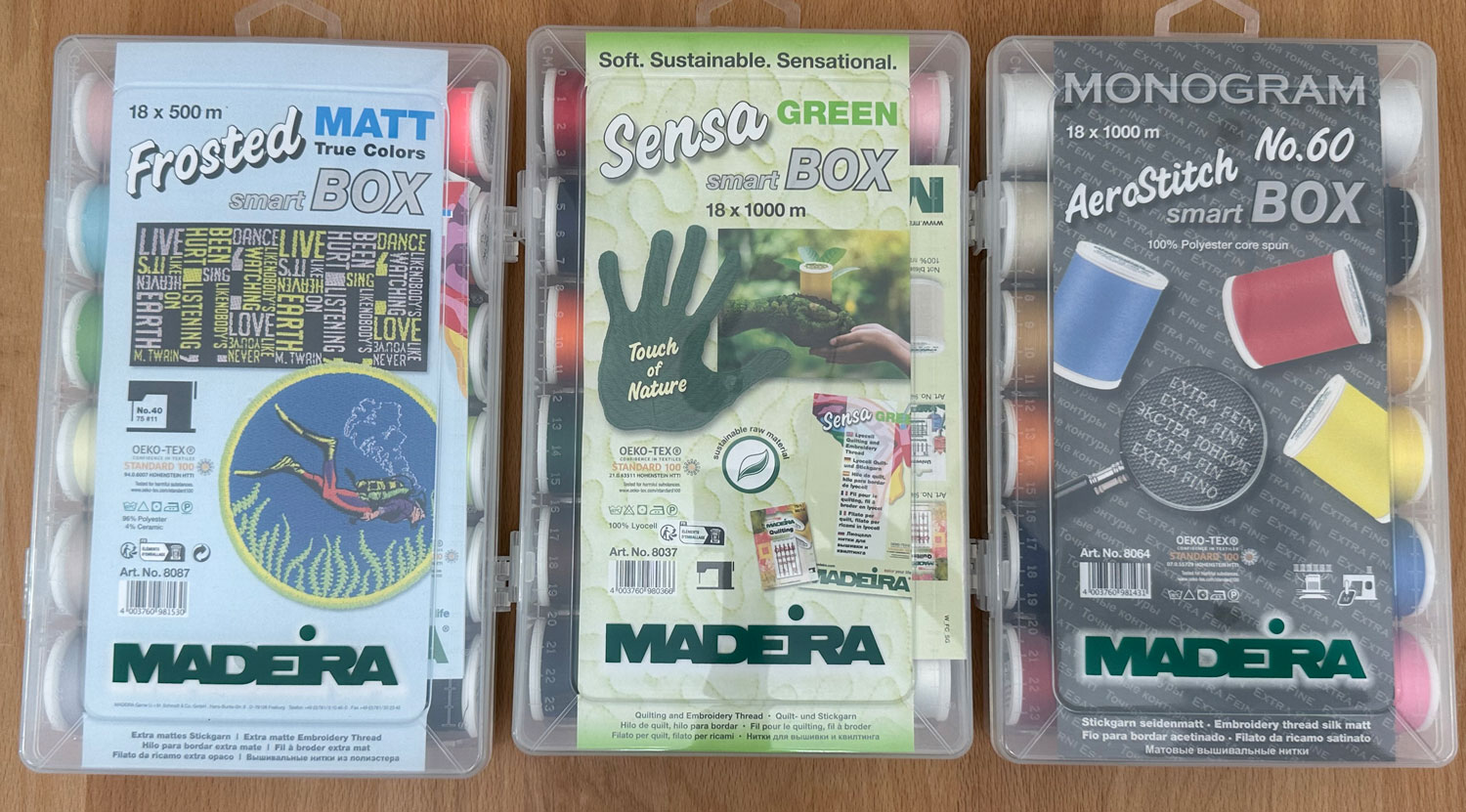 Here are the spools: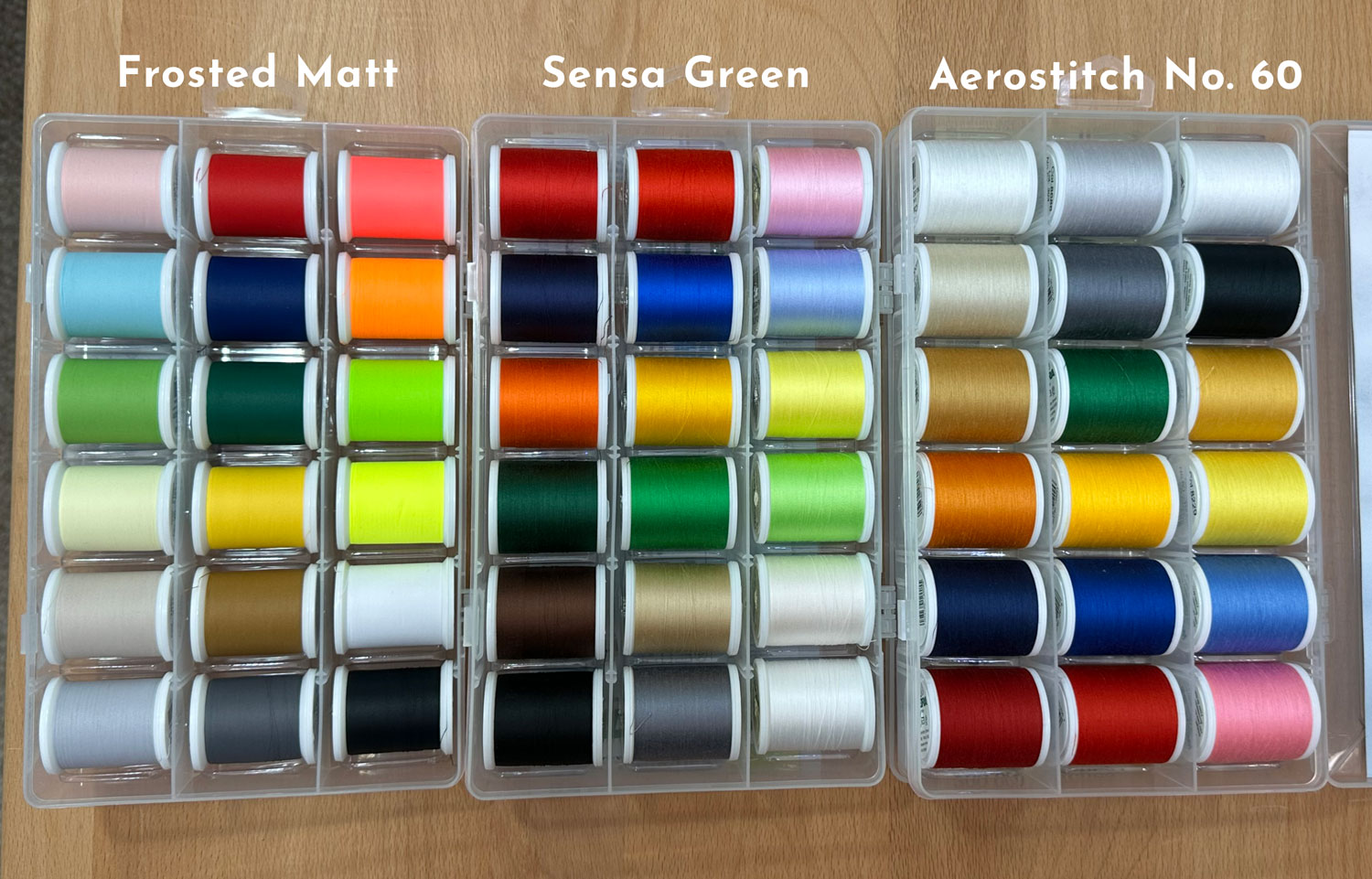 Frosted Matt: Made from polyester and ceramic, this thread is truly matte and light-fast.
Sensa Green: Made from Lyocell, this thread is incredibly soft. It's sourced from trees in sustainably managed forests, is certified free of harmful substances, and is one of the world's most sustainable threads.
AeroStitch No. 60: This polyester corespun thread is a very fine thread. From what I could tell, it's the thinnest thread Madeira sells.
Here is a close-up of a spool from each line of thread. I decided to experiment with the Sensa Green and AeroStitch as possible alternatives to my silk threads. The Frosted Matt caught my eye because of its matte finish; I wanted to try using it as my signature thread to make my name stand out from the rest of my design.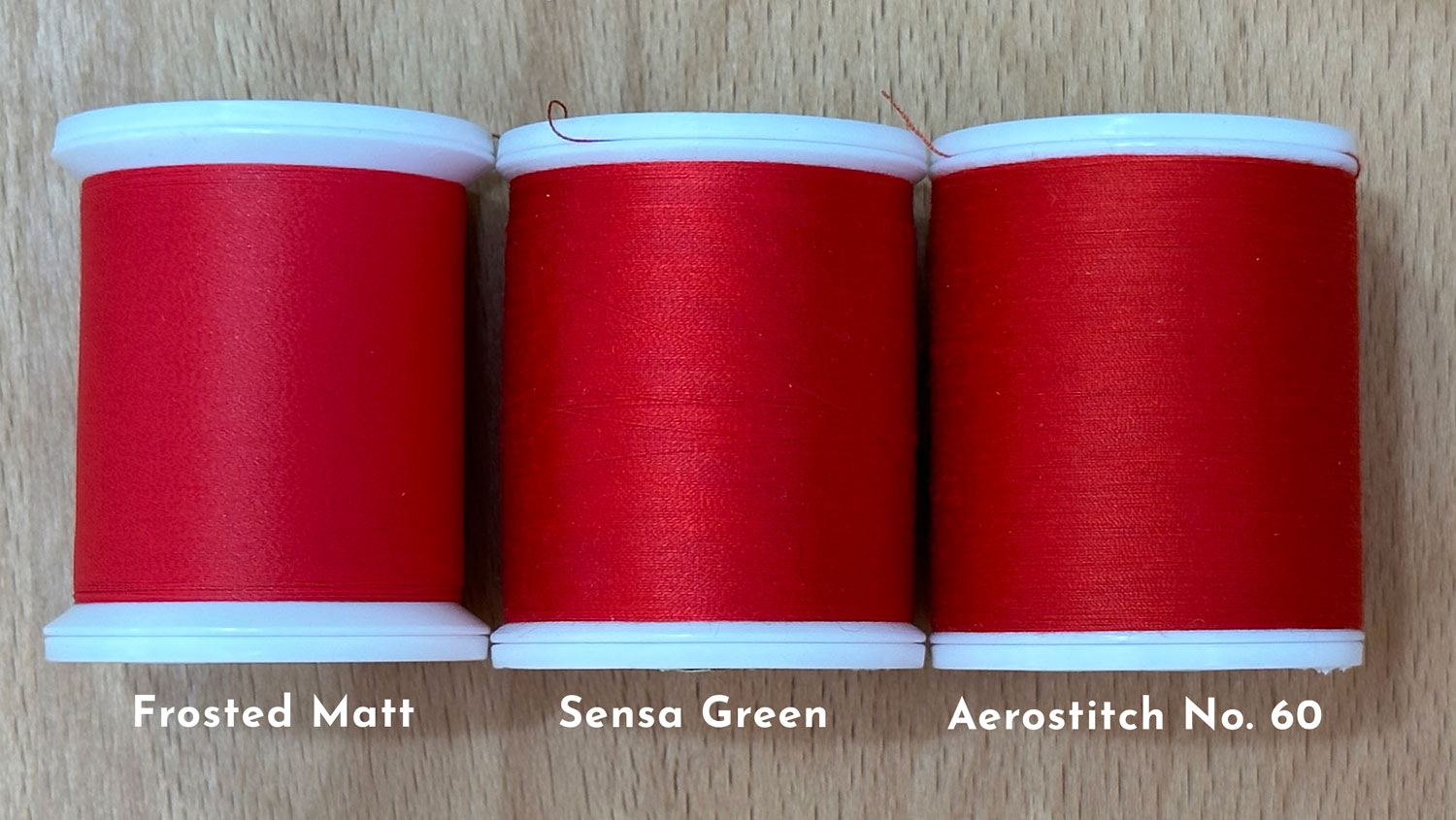 The Comparison
To start, I stitched a line of thread from three threads I already own next to the three Madeira threads. The three threads I already had are:
Kimono Silk: This is a 100wt silk thread by Superior Threads. I use this thread for the vast majority of my quilting.
Tiara Silk: This is a 50wt silk thread by Superior Threads. I have, on occasion, experimented with variegated, heavier-weight thread (notably on the silver tray in Date Night), and those times I've used this thread.
Sew Complete: I've used this 50wt polyester corespun for non-quilting projects.
Take a look at the lineup: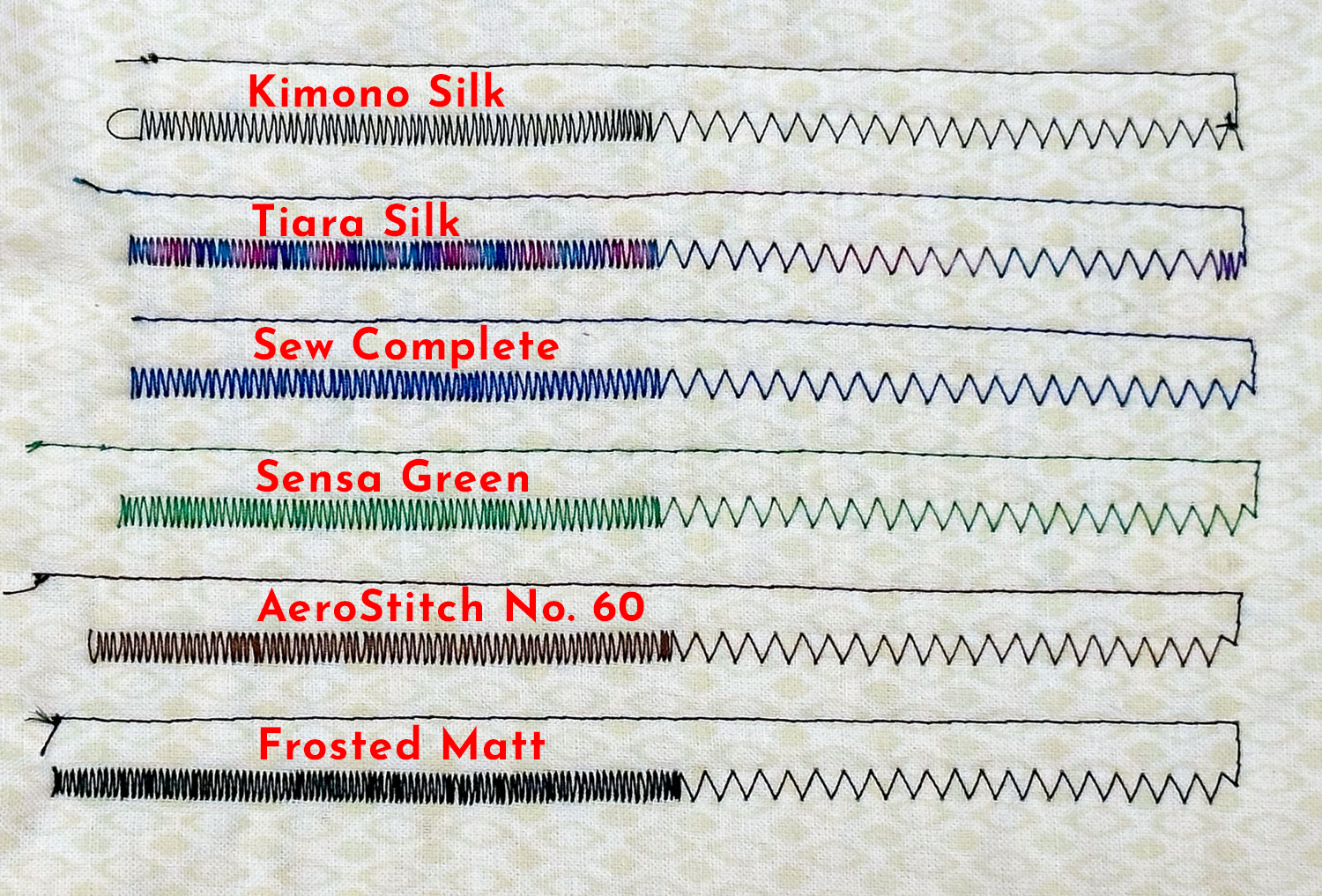 Here's a slightly different angle next to my sewing machine: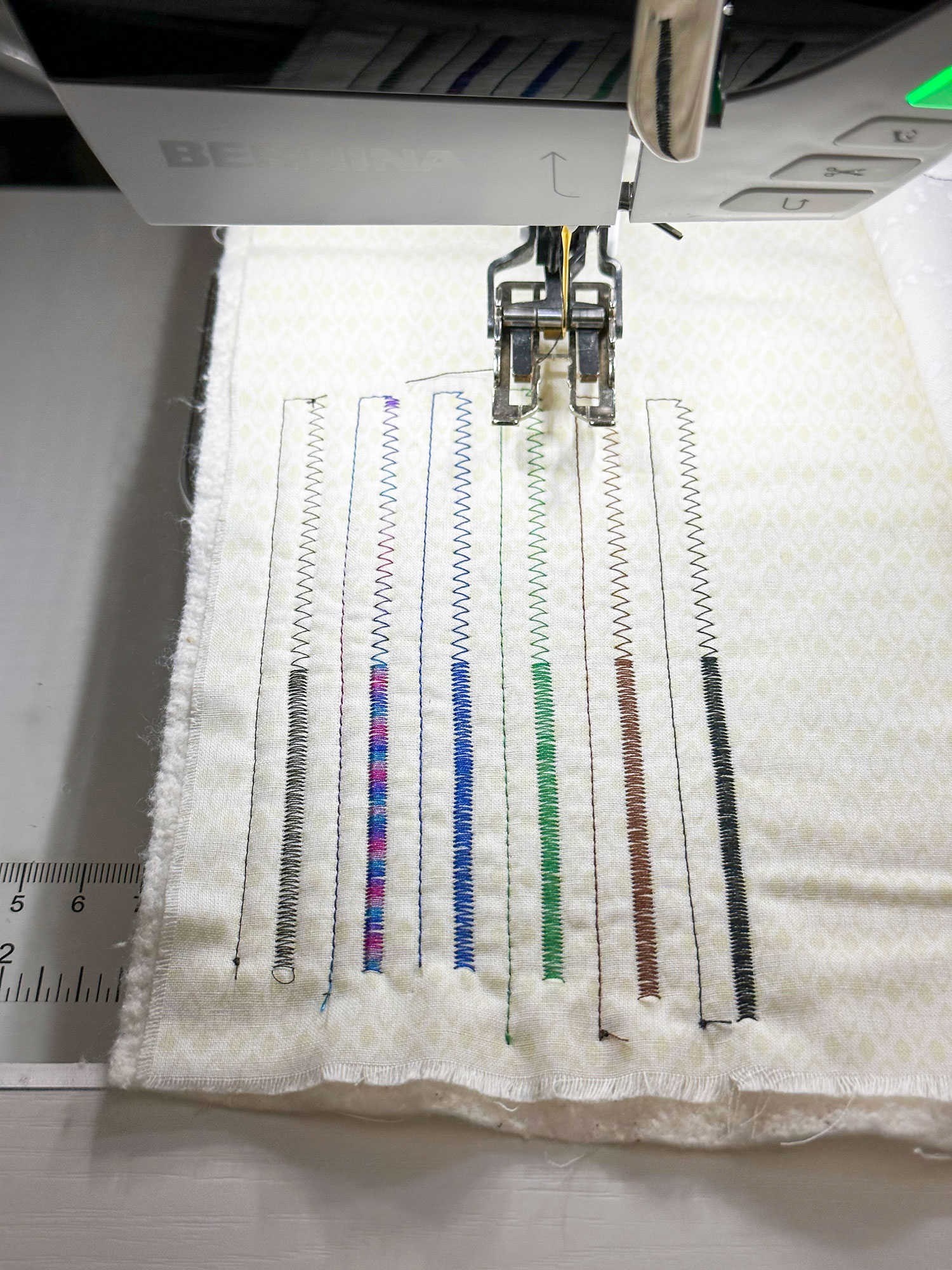 Then I took some time to try these Madeira threads in a quilting project.
The Dream Is Alive
I used primarily Sensa Green (with a little bit of AeroStitch) to quilt The Dream Is Alive. Here is the finished quilt: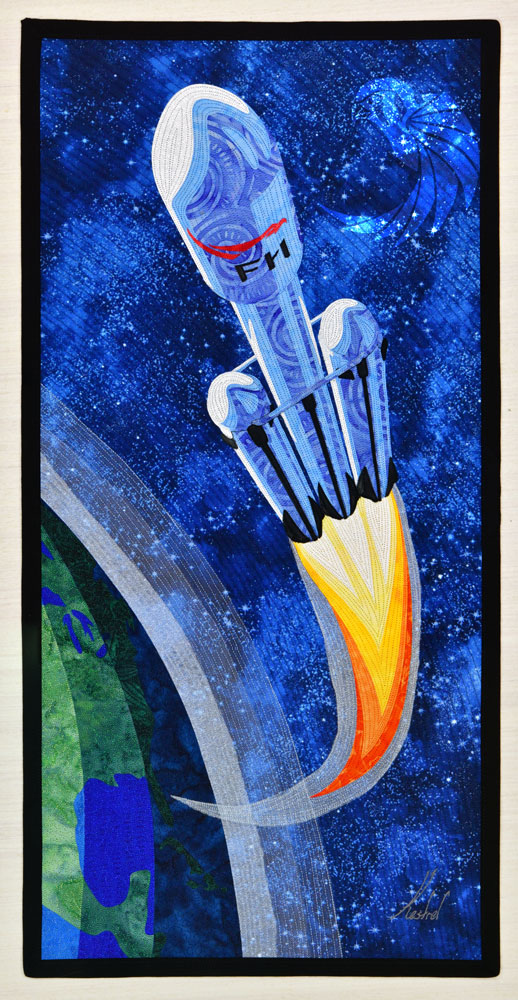 Here's a close-up of the stitching along the top of the rocket: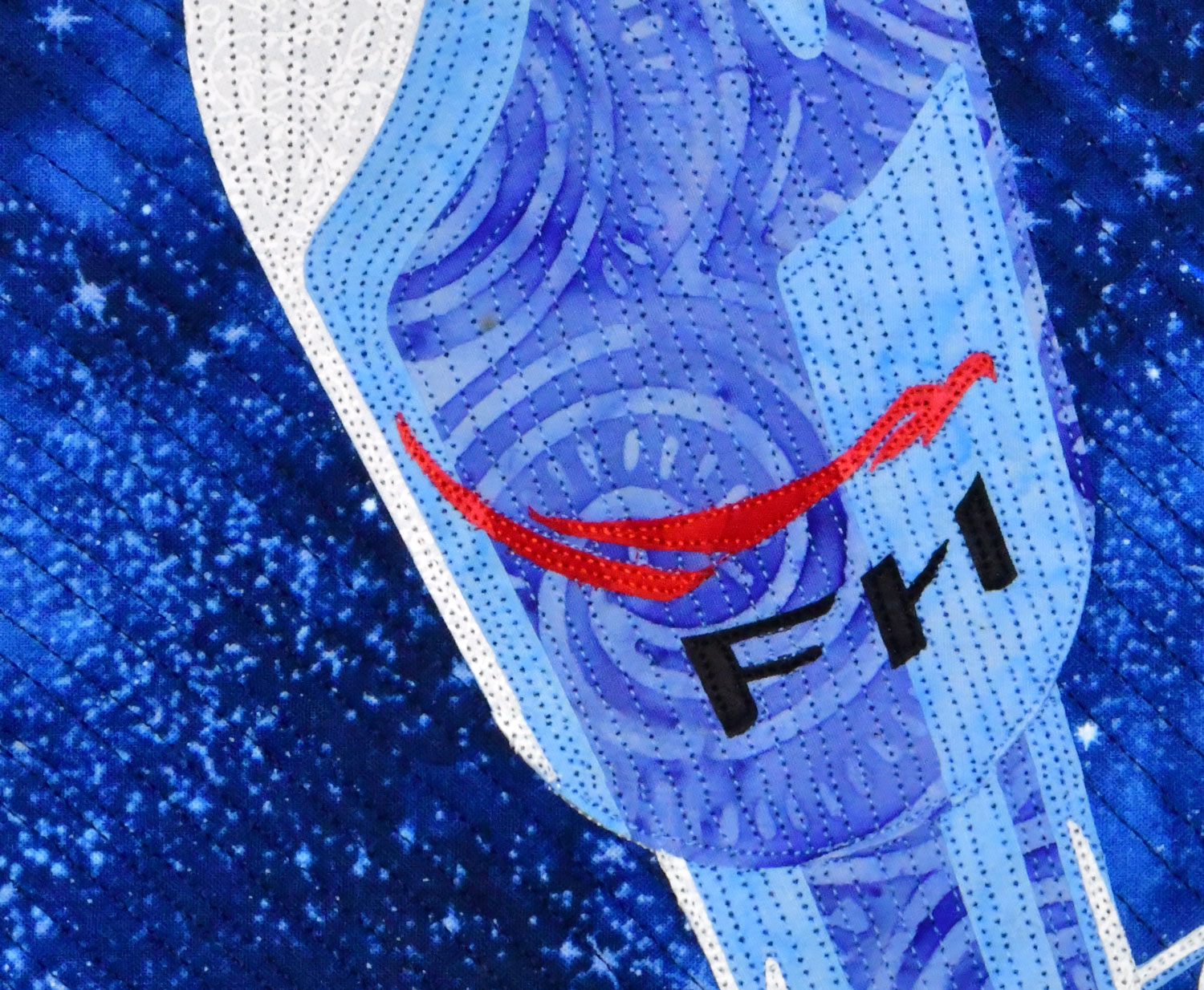 And I used the Frosted Matt to embroider my signature: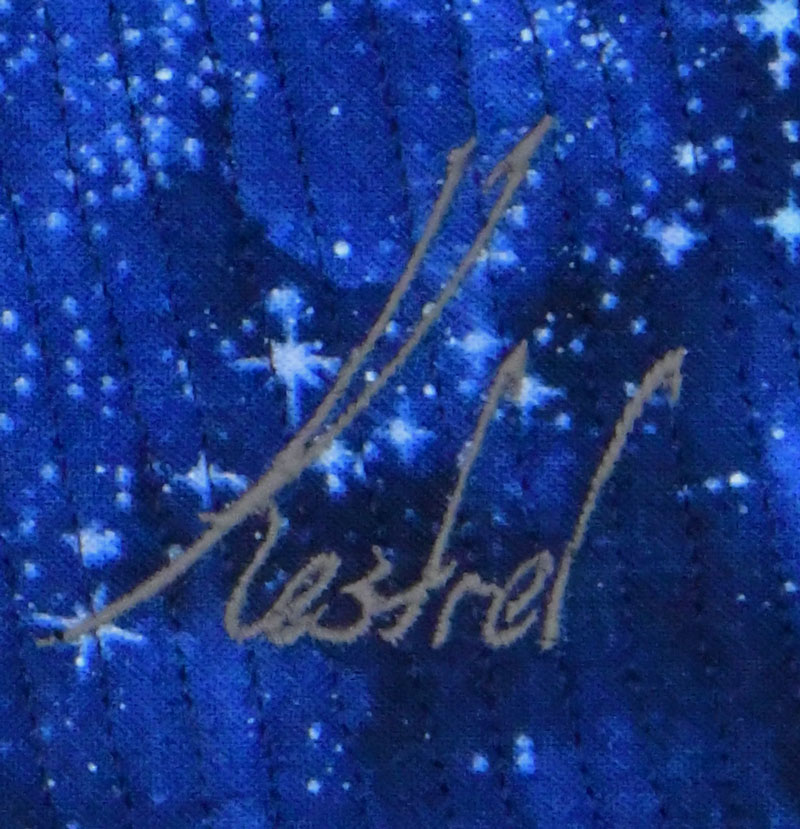 Thoughts
I really liked all three threads. They all produced minimal lint and I had no problems while quilting (skipped stitches, broken threads, etc.) I was using an 80/12 Microtex needle and 40wt thread in the bobbin.
Will I replace my silk threads with any of the Madeira threads?
Unfortunately, no. The Madeira threads are simply too thick; I'm looking for an extremely subtle thread for quilting my show quilts, and so far I have not found a thread comparable to the silk.
Do I plan to use the Madeira threads at all in the future?
Actually, yes. I loved the look of the Frosted Matt thread for my signature. It has absolutely no sheen, giving it a different appearance from the thread used everywhere else in the quilt. I really liked making my name stand out in that subtle fashion. Frosted Matt is my signature thread from here on out. I'll also use it to embroider Limited Edition markers into quilts that require that info.
I love the idea of being more environmentally-conscious with my art form, so I am totally on board with the Sensa Green thread for all non-show quilting purposes. There are 120 colors in the line, it's sustainably manufactured, and it sewed beautifully. If this thread were of a comparable thinness to Kimono Silk, I'd use it exclusively.
Although I liked the AeroStitch thread, it only has 25 colors in the line, and I don't see a need for it in addition to the Sensa Green (since I'm planning to use Sensa Green for all non-quilting purposes). So although I did like this thread, I just don't feel that I personally have a need for it. But if that changed in the future, I would happily go back to it.
What would I like to see Madeira offer?
Honestly, the only thing Madeira doesn't currently offer is a super thin thread, something akin to the 100wt Kimono Silk. That's my one wishlist item. Bonus points if it could be sustainably manufactured like the Sensa Green.